Social Media
Get the lowdown on Gary Numan and follow us, join the Gary Numan community on social media. Join in the fun and have you say.
Amazon
Search for New and Used Gary Numan CDs, Vinyl, DVDs.
Tour Dates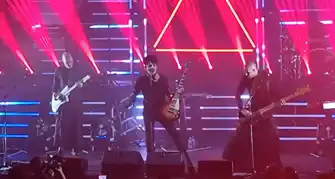 Check out the latest Gary Numan tour dates, events. See one of the founding fathers of synth pop.
Forum
To all Gary Numan fans the Numanme Forum is the forum for you a place for you to be completely Numanized. You can apply for free membership NOW!.
Facebook
This group has been put together for fans of Gary Numan and visitors of the Numanme site, to discuses all things Numan sell/trade share stories and images from all aspects of Numan's career.
Weather Forecast
Podcast
Numanme Radio Podcast will be playing you some of the best Classic Alternative, New Wave, Dark Wave, Synth-Pop, and Punk. Also, a staple diet of Gary Numan/Tubeway Army without question. Shows will be updated here when they become available.
Photo Gallery
These galleries contain Gary Numan related photographs. ranging form the Tubeway Army days to present day. Feel free to browse and if you would like to add any of your own images please get in touch.
Poll
Vote for your favorite Gary Numan album or song.
Numan Quotes +
The Fallen EP
Title:

The Fallen EP

Suggested Video

Artist:

Gary Numan

Tracklist:

A1. It Will End Here
B2. The Promise
B3. If We Had Known

How old:

This 12" is old!

Release Date:

November 9th 2018

Format:

12"

Record Label:

BMG Records

Catalogue No:

538435551

Price Guide:

£13.00

Country:

United Kingdom

Additional info:

EP 12"

Highest Chart Position:

N/A

Credits:

Gary Numan, Vocals, Keyboards
Ade Fenton, Keyboards, Programming
Steve Harris, Guitar
Tim Slade, Bass

Buy:
Additional Information
The EP acts as an epigraph, of sorts, to the excellent 'Savage' album which was released last year (Reaching number 2 in the official UK album charts, quite a feat at this stage of Gary's career).

'Savage' had depicted a post-apocalyptic/post-global warming world where the Earth's civilisation had been decimated and much of the world had become barren and desert-like, and out of necessity, and survival, East and West cultures had merged, forgetting past religious differences (this is reflected in the music which has western melodies merged with middle eastern instrumentation and vocals, the cover art also has an eastern font with western text and Gary is dressed as somewhat like a desert nomad, in functional pseudo-military attire appropriate for the climate).

Gary becomes the persona of 'Ruin' (a father whose only surviving relation is his daughter) living on the fringes of civilisation. He is haunted by the past and filled with anger/confusion over his present situation (again reflected in the music which ranges from heavy to poignant), he exists only for his daughter, who one night is abducted by a cult called 'The Righteous' whose beliefs are based upon a fragment of The Old Testament, found as a remnant of the old civilisation, and they have warped views about enacting the will of a vengeful God, to cleanse the world of its sins. 'Ruin' blazes a path of vengeance to get his daughter back (listen to the track 'My Name is Ruin' to get the vibe).

As for 'The Fallen' EP. These three tracks (the fourth being an edit) bookend 'Savage' for those left on tender hooks after last year's release. 'It Will End Here' is a return to the 'Savage' world and would have been a strong track on the album itself. Anthemic and defiant to the end "Here we stand, so take my hand, and watch the sunlight burn..." (it is a cathartic outlet for a man who has been through Hell on Earth in waging his own personal war in an already bleak environment).

'The Promise' musically has moments of recall to the soundscapes of the albums: 'Pure', 'Jagged', 'Dead Son Rising' and 'Splinter', and questions what there is to hope for after the end (The inner conflict of Gary's Atheism has been a recurring theme through much of this output, especially as he ponders the uncertainty of his own mortality as he turned 60 earlier this year). There is a feeling of not only bookending the 'Savage' campaign, but also perhaps closing this particularly heavy 'industrial' chapter of his music career (a career defined by reinvention, and progression).

'If We Had Known' is the type of haunting, poignant "dark ballad" that Gary, having the ability to locate an unlikely beauty in the bleakest of soundscapes, excels in. The track begins with a ticking clock effect, with an atmospheric minimalism that contrasts with, and compliments, the heavier tracks on the EP "This is goodbye, but not the end, we'll meet again" (actually does offer a sense of optimism, unusual for Gary, who tends to favour the bleak and dark as his palette of expression)..