Social Media
Get the lowdown on Gary Numan and follow us, join the Gary Numan community on social media. Join in the fun and have you say.
Amazon
Search for New and Used Gary Numan CDs, Vinyl, DVDs.
Tour Dates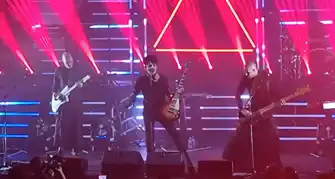 Check out the latest Gary Numan tour dates, events. See one of the founding fathers of synth pop.
Forum
To all Gary Numan fans the Numanme Forum is the forum for you a place for you to be completely Numanized. You can apply for free membership NOW!.
Facebook
This group has been put together for fans of Gary Numan and visitors of the Numanme site, to discuses all things Numan sell/trade share stories and images from all aspects of Numan's career.
Weather Forecast
Podcast
Numanme Radio Podcast will be playing you some of the best Classic Alternative, New Wave, Dark Wave, Synth-Pop, and Punk. Also, a staple diet of Gary Numan/Tubeway Army without question. Shows will be updated here when they become available.
Photo Gallery
These galleries contain Gary Numan related photographs. ranging form the Tubeway Army days to present day. Feel free to browse and if you would like to add any of your own images please get in touch.
Poll
Vote for your favorite Gary Numan album or song.
Numan Quotes +
Terrestrial Channels Download
Title:

Terrestrial Channels

Suggested Video

Artist:

Dramatis

Tracklist:

1. Oh!2025
2. Human Sacrifice
3. I Only Find Rewind
4. No One Lives Forever
5. Love Needs No Disguise
6. Turn
7. Take Me Home
8. On Reflection
9. Ex Luna Scientia

How old:

This Download is old!

Release Date:

March 21rd 2014

Format:

Download

Record Label:

Spite

Catalogue No:

N/A

Price Guide:

£4.99

Country:

United Kingdom

Additional info:

Download Only

Highest Chart Position:

N/A

Credits:

Gary Numan

Buy:
Additional Information
This NOT a Gary Numan album . It's yet another re-branding of ' For Future Reference ' by Dramatis . First released in 1981 on Rocket Records ( Train 18 ) shortly after Numan' s spectacular Wembley Arena concerts. Dramatis , Chris Payne, RRussell Bell ,Denis Haynes and the late Cedric Sharpley were Numan' s studio and live band , along with the late Paul Gardiner . Numan' s only contribution is a guest vocal on the single Love Needs No Disguise . All the tracks were written by the band and the vocals shared between RRussell and Denis with Chris taking the lead on one of the stand out tracks Turn . Two other singles were taken from the album Ex Luna Scientia ( from the moon knowledge ) the moto of the ill fated Apollo 13 mission . And No-one Lives Forever . This is still a great album despite being over 30 years old , I love it and still play it regularly . I really don't know how record companies get away with such blatant and misleading labelling , It takes the credit for a really great album away from Dramatis . Can't be right or legal.