Social Media
Get the lowdown on Gary Numan and follow us, join the Gary Numan community on social media. Join in the fun and have you say.
Amazon
Search for New and Used Gary Numan CDs, Vinyl, DVDs.
Tour Dates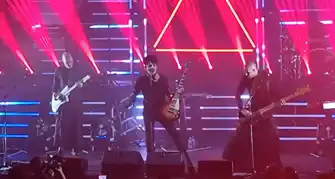 Check out the latest Gary Numan tour dates, events. See one of the founding fathers of synth pop.
Forum
To all Gary Numan fans the Numanme Forum is the forum for you a place for you to be completely Numanized. You can apply for free membership NOW!.
Facebook
This group has been put together for fans of Gary Numan and visitors of the Numanme site, to discuses all things Numan sell/trade share stories and images from all aspects of Numan's career.
Weather Forecast
Podcast
Numanme Radio Podcast will be playing you some of the best Classic Alternative, New Wave, Dark Wave, Synth-Pop, and Punk. Also, a staple diet of Gary Numan/Tubeway Army without question. Shows will be updated here when they become available.
Photo Gallery
These galleries contain Gary Numan related photographs. ranging form the Tubeway Army days to present day. Feel free to browse and if you would like to add any of your own images please get in touch.
Poll
Vote for your favorite Gary Numan album or song.
Numan Quotes +
Telekon 2015 Remastered Double Vinyl
Title:

Telekon 2015 Remastered Double Vinyl

Suggested Video

Artist:

Gary Numan

Tracklist:

A1. The Wreckage
A2. The Aircrash Bureau
A3. Telekon
A4. Remind Me To Smile
B1. Sleep By Windows
B2. I'm An Agent
B3. I Dream Of Wires
B4. Remember I Was Vapour
C1 Please Push No More
C2 The Joy Circuit
C3 We Are Glass
C4 Trois Gymnopedies (First Movement)
D1 I Die:You Die
D2 Down In The Park (Piano Version)
D3 A Game Called Echo
D4 Photograph
D5 Remind Me To Smile (USA Mix)
D6 I Die:You Die (Alternate Mix)

How old:

This 2XLP is old!

Release Date:

October 16th 2015

Format:

2XLP

Record Label:

Beggars Banquet

Catalogue No:

BBQLP 19

Price Guide:

£24.00

Country:

United Kingdom

Additional info:

2015 Remastered Vinyl.

Highest Chart Position:

N/A

Credits:

Gary Numan (Vocals, Minimoog, Polymoog, A.R.P. Pro-Soloist, JP4, Piano,
Prophet 5, CP30, Compurhythm, Synare, Guitar)
Paul Gardiner (Bass, Backing Vocal)
Cedric Sharpley (Drums, Backing Vocals, percussion)
John Webb (Handclaps)
James Freud (Handclaps)
Chris Payne (Viola, solo piano, Minimoog, Backing Vocals)
RRussell Bell (Claves, Rhythm Guitar, Backing Vocals, Lead Guitar on 'The Joy Circuit')
Denis Haines (Prophet 5, Piano, CP30, Minimoog, Polymoog,Backing Vocal, Whistle)
Simple Minds ET AL (Handclaps)

Produced by Gary Numan

Recorded at Rock City and Matrix
Engineered by Nick Smith, Steve Smith, Graeme Myhre, Jess Sutcliffe.

Buy:
Additional Information
TELEKON was released in 1980 and was Numan's third successive #1 album in the UK.

Unlike it's predecessor The Pleasure Principle, Telekon had plenty of guitars, along with strings and lush synthesizer textures. While it was hard to follow up the previous release, Telekon proved to be hugely influential. Trent Reznor claimed to have listened to it every day during the making of Pretty Hate Machine. Telekon was originally released as a single album but being so long, it lost some of the dynamic range. This release is over four sides of vinyl and includes bonus singles, B-sides, alternate mixes and an out-take.