Social Media
Get the lowdown on Gary Numan and follow us, join the Gary Numan community on social media. Join in the fun and have you say.
Amazon
Search for New and Used Gary Numan CDs, Vinyl, DVDs.
Tour Dates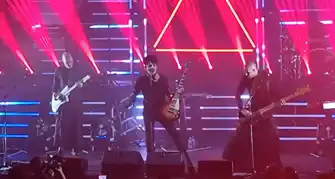 Check out the latest Gary Numan tour dates, events. See one of the founding fathers of synth pop.
Forum
To all Gary Numan fans the Numanme Forum is the forum for you a place for you to be completely Numanized. You can apply for free membership NOW!.
Facebook
This group has been put together for fans of Gary Numan and visitors of the Numanme site, to discuses all things Numan sell/trade share stories and images from all aspects of Numan's career.
Weather Forecast
Podcast
Numanme Radio Podcast will be playing you some of the best Classic Alternative, New Wave, Dark Wave, Synth-Pop, and Punk. Also, a staple diet of Gary Numan/Tubeway Army without question. Shows will be updated here when they become available.
Photo Gallery
These galleries contain Gary Numan related photographs. ranging form the Tubeway Army days to present day. Feel free to browse and if you would like to add any of your own images please get in touch.
Poll
Vote for your favorite Gary Numan album or song.
Numan Quotes +
Stars 12"
Title:

Stars

Suggested Video

Artist:

Nicky Robson

Tracklist:

A1. Stars (12 inch mix)
B1. Eye To Eye (Extended Version)
B2. Stars (7 inch mix)

How old:

This 12" is old!

Release Date:

August 5th 2020

Format:

12"

Record Label:

Neppa

Catalogue No:

NEP003

Price Guide:

£20.00

Country:

Norway

Additional info:

Produced by Gary Numan and Fretless Bass, Synths & Linn Drum programming, Backing Vocals on 'Stars'

Highest Chart Position:

N/A

Credits:

Nicky Robson (Vocals & Backing Vocals)
Andrew Hale (Piano & Synths)
Alex Godson (Piano & Synths)
Simon Kunz (Drums and Percussion)
Gary Numan (Fretless Bass, Synths & Linn Drum programming, Backing Vocals on 'Stars')

Written and composed by Nicky Robson and Andrew Hale
Produced by Gary Numan
Recorded and mixed at Rock City Sound Studios

Buy:
Additional Information
In 1981, Nick Robson wrote Stars. The song can pretty much be described as a slow, cosmic disco song. It has an unusual feel, and it comes as Oslo-based Neppas third release. This 12" holds the 12" mix, the 7" mix, and the original B-side Eye To Eye. The original 12" is as rare as they come, and here you get the original material, fully licenced, and remastered. The process of recording the material back in 1981 was not an easy one, as Nick Robson recalls:

"Fame by David Bowie is one of my favourite songs, period. I was 18 when i wrote Stars and i wanted to write something that was my version of Fame and quite honestly, as a tribute to the song. If you listen to the bass lines, there is a hint of similarity in the two. Even the lyric of Stars has a passing reference to Fame.

Stars was one of four songs recorded at Gary's Rock City studio to supply the first two singles and form the basis of the first album. The other three tracks were Eye To Eye, Boys and She's Like Ice. Although all four tracks were finished, for one reason or another, Boys never made it to pressing and I walked away from the business to pursue a career in film.

Stars itself, was the most arduous and problematic track that I've ever recorded. It took around 14 days to finally get an agreed mix when the budget probably only ran to three days. Part of the reason for this is the enormous quantity of music tracks recorded in the song. In those days, we only had 24 recordable tracks available on the Otari, so once you had recorded 23 or less actually, you had to bounce down sub-mixes to a single track to free up another batch of tracks. I think that there are around 46 tracks of instruments alone on Stars so although that kind of track usage is not uncommon now, back then it was rare. It remains the single most expensive song i ever recorded. The B-side Eye To Eye, on the other hand, was written, recorded and mixed in one day.