Social Media
Get the lowdown on Gary Numan and follow us, join the Gary Numan community on social media. Join in the fun and have you say.
Amazon
Search for New and Used Gary Numan CDs, Vinyl, DVDs.
Tour Dates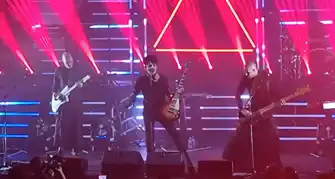 Check out the latest Gary Numan tour dates, events. See one of the founding fathers of synth pop.
Forum
To all Gary Numan fans the Numanme Forum is the forum for you a place for you to be completely Numanized. You can apply for free membership NOW!.
Facebook
This group has been put together for fans of Gary Numan and visitors of the Numanme site, to discuses all things Numan sell/trade share stories and images from all aspects of Numan's career.
Weather Forecast
Podcast
Numanme Radio Podcast will be playing you some of the best Classic Alternative, New Wave, Dark Wave, Synth-Pop, and Punk. Also, a staple diet of Gary Numan/Tubeway Army without question. Shows will be updated here when they become available.
Photo Gallery
These galleries contain Gary Numan related photographs. ranging form the Tubeway Army days to present day. Feel free to browse and if you would like to add any of your own images please get in touch.
Poll
Vote for your favorite Gary Numan album or song.
Numan Quotes +
Scarred LP
Title:

Scarred - 2LP 180g clear vinyl

Suggested Video

Artist:

Gary Numan

Tracklist:

A1. Intro.
A2..Pure
A3. Me, I Disconnect From You
A4. The Angel Wars
A5. My Jesus
A6. Films
B1. Magic
B2. Rip
B3. Cars
B4. Metal
B5. Little Invitro
B6. Down In The Park
C1. This Wreckage
C2. Dead Heaven
C3. I Cant Breathe
C4. Are Friends Electric?
D1. A Prayer For The Unborn
D2. Listen To My Voice
D3. Replicas
D4. Observer
D5. Dance
D6. Tracks

How old:

This 2xLP is old!

Release Date:

September 1st 2011

Format:

LP

Record Label:

LET THEM EAT VINYL

Catalogue No:

LETV030LP

Price Guide:

£15.00

Country:

United Kingdom

Additional info:

Scarred - 2LP 180g clear vinyl reissue. Recorded at London Brixton Academy on October 20, 2000.

Highest Chart Position:

N/A

Credits:

Gary Numan (Vocals, Guitar)
David Brooks (Keyboards, Bass)
Ade Orange (Keyboards)
Steve Harris (Guitar)
Richard Beasley (Drums)

Buy:
Additional Information
180 gram clear vinyl reissue of Gary Numan's 2003 live album Scarred is a live album by English musician Gary Numan. The album was released in January 2003 by Eagle Records and is a recording of Numan's 20 October 2000 Brixton Academy concert, which was a warm-up concert for his Pure Tour. Gary Numan (born Gary Anthony James Webb on 8 March 1958) is an English singer, composer, and musician, most widely known for his chart topping 1979 hits "Are 'Friends' Electric?" (as Tubeway Army) and "Cars". His signature sound consisted of heavy synthesizer hooks fed through guitar effects pedals. Numan is considered a pioneer of commercial electronic music. His use of themes from science fiction, and his combination of aggressive punk energy with electronics, have since been widely limitated.