Social Media
Get the lowdown on Gary Numan and follow us, join the Gary Numan community on social media. Join in the fun and have you say.
Amazon
Search for New and Used Gary Numan CDs, Vinyl, DVDs.
Tour Dates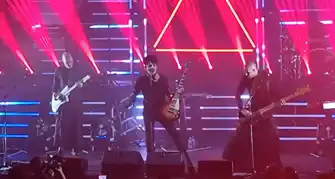 Check out the latest Gary Numan tour dates, events. See one of the founding fathers of synth pop.
Forum
To all Gary Numan fans the Numanme Forum is the forum for you a place for you to be completely Numanized. You can apply for free membership NOW!.
Facebook
This group has been put together for fans of Gary Numan and visitors of the Numanme site, to discuses all things Numan sell/trade share stories and images from all aspects of Numan's career.
Weather Forecast
Podcast
Numanme Radio Podcast will be playing you some of the best Classic Alternative, New Wave, Dark Wave, Synth-Pop, and Punk. Also, a staple diet of Gary Numan/Tubeway Army without question. Shows will be updated here when they become available.
Photo Gallery
These galleries contain Gary Numan related photographs. ranging form the Tubeway Army days to present day. Feel free to browse and if you would like to add any of your own images please get in touch.
Poll
Vote for your favorite Gary Numan album or song.
Numan Quotes +
Savage CD
Title:

Savage

Suggested Video

Artist:

Gary Numan

Tracklist:

01. Ghost Nation
02. Bed of Thorns
03. My Name Is Ruin
04. The End of Things
05. And It All Began with You
06. When the World Comes Apart
07. Mercy
08. What God Intended
09. Pray for the Pain You Serve
10. Broke

How old:

This CD is old!

Release Date:

September 15th 2017

Format:

CD

Record Label:

BMG Records

Catalogue No:

4050538307443

Price Guide:

£12.00

Country:

United Kingdom

Additional info:

-----

Highest Chart Position:

2

Credits:

Gary Numan - Vocals, Keyboards
Ade Fenton - Keyboards, Programming
Steve Harris - Guitar
Tim Slade - Bass
Persia Numan - Vocals

Produced by - Ade Fenton
Mixed by - Nathan Boddy
Mix Assistant - Paul Carr
Mastered by - Matt Colton
Mastered at - Alchemy Mastering
Photography by - Joseph Cultice
Page 10/11 Deluxe CD Photographs by - Micah Smith
Sytlist and Make-Up by - Gemma Webb

All songs written by - Gary Numan except What God Intended - Gary Numan / Ade Fenton

Buy:
Additional Information
Coming almost four years after his album 'Splinter (Songs From A Broken Mind)' earned the best reviews of his career and his highest chart-placing in 20 years, the iconic and highly influential Gary Numan will release his 22nd album 'Savage: Songs From A Broken World' on September 15th 2017. The announcement comes shortly after the British electro pioneer was awarded the Inspiration Award for songwriting and composition at the Ivor Novellos. 'Savage: Songs From A Broken World' is an album with a narrative that's set in an apocalyptic, post-global warming Earth in the not-too-distant future. There is no technology left and most of the planet has turned to a desolate desert wasteland. Food is scarce, water even more so and human kindness and decency are just a dim and distant memory. Western and Eastern cultures have merged, more because of the need to simply survive than any feelings of greater tolerance or understanding. It's a harsh, savage environment, as are the survivors who still roam across it. While Numan was writing the record, DonaldTrump was elected President of the United States. It made sense to make him and his climate decisions the catalyst for the apocalypse theme of the album. "The songs are about the things that people do in such a harsh and terrifying environment,"explains Numan."It's about a desperate need to survive and they do awful things in order to do so, and some are haunted by what they've done. That desire to be forgiven, along with some discovered remnants of an old religious book, ultimately encourages religion to resurface, and it really goes downhill from there."The album was produced by long-term collaborator Ade Fenton, with recording sessions split between Numan's own studio in LA, and in the UK. Numanand Fenton's creative connection goes back to 2006's'Jagged'. "Ade is not only extremely creative but ridiculously hard working, even in difficult circumstances," says Numan. "It's easy to discuss alternative ideas with him, he's not precious about things and is always looking to make the music better, even if that means, on very rare occasions, undoing his own work and starting again."As the project took shape, Numan also set up a Pledge Music campaign to create an experience for fans that would let them see how an album was put together, from the first note to the finished shrink wrapped package. It was a strategy that brought Numan closer to his fans, and allowed him to communicate the blood, sweat and tears that goes into making a record. First single 'My Name Is Ruin' is a menacing industrial march in which the unrelenting mechanized intensity is countered by the humanity of its sweet, swirling backing vocals which exude a palpable Egyptian influence. It's immediately captivating but brutally uncompromising: the sound of an artist eager to continue to push both himself and his audience almost four decades after presenting his initial sonic prototype. The accompanying video for the track was directed by visual artist and musician Chris Corner of IAMX. Filmed in the desolate deserts of southern California, it features a special guest in the shape of Numan's11-year-old daughter Persia who also contributes vocals to the track. With the foreboding setting and temperatures reaching 48ºC during the shoot, the stunning location was the perfect backdrop for an album that examines a world struggling for survival after the devastation of global warming. 'Savage: Songs From A Broken World' is available on CD, deluxe CD, double vinyl, cassette and digital formats.