Social Media
Get the lowdown on Gary Numan and follow us, join the Gary Numan community on social media. Join in the fun and have you say.
Amazon
Search for New and Used Gary Numan CDs, Vinyl, DVDs.
Tour Dates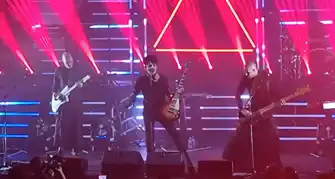 Check out the latest Gary Numan tour dates, events. See one of the founding fathers of synth pop.
Forum
To all Gary Numan fans the Numanme Forum is the forum for you a place for you to be completely Numanized. You can apply for free membership NOW!.
Facebook
This group has been put together for fans of Gary Numan and visitors of the Numanme site, to discuses all things Numan sell/trade share stories and images from all aspects of Numan's career.
Weather Forecast
Podcast
Numanme Radio Podcast will be playing you some of the best Classic Alternative, New Wave, Dark Wave, Synth-Pop, and Punk. Also, a staple diet of Gary Numan/Tubeway Army without question. Shows will be updated here when they become available.
Photo Gallery
These galleries contain Gary Numan related photographs. ranging form the Tubeway Army days to present day. Feel free to browse and if you would like to add any of your own images please get in touch.
Poll
Vote for your favorite Gary Numan album or song.
Numan Quotes +
(R)evolution: The Autobiography
Title:

(R)evolution: The Autobiography

Artist:

Gary Numan

Auther

Gary Numan

Publisher

Constable

How old:

This Book is old!

Release Date:

October 22nd 2020

Format:

Hardcover 464 pages

ISBN:

978-1472134622

Price Guide:

£9.73

Country:

United Kingdom

Additional info:

Hardcover.

Buy:
Additional Information
Gary Numan is one of Britain's most important and respected musical artists. He has been lauded by everyone from Prince ('His album Replicas never left my turntable . . . There are people still trying to work out what a genius he was') through the Foo Fighters and Nine Inch Nails to Lady Gaga ('[He] proves music has always been really inventive for the masses').

(R)evolution is Numan's long-awaited memoir; one that charts his two lives. The first: from growing up in west London, where he was expelled from school and beaten up daily for looking different, before discovering his first synthesiser and conquering the music world in rapid time; to the extravagance, the undiagnosed Asperger's and the slow decline of a career that faded into near obscurity. The second: a twenty-plus year renaissance, catalysed by the date with a super-fan, which has allowed Gary to rediscover his creativity, produce some of his best music and become the true Godfather of electro-pop.

This will be the story of one man, several dozen synthesisers, multiple issues and two desperately different lives.