Social Media
Get the lowdown on Gary Numan and follow us, join the Gary Numan community on social media. Join in the fun and have you say.
Amazon
Search for New and Used Gary Numan CDs, Vinyl, DVDs.
Tour Dates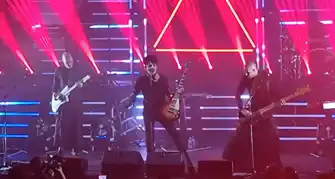 Check out the latest Gary Numan tour dates, events. See one of the founding fathers of synth pop.
Forum
To all Gary Numan fans the Numanme Forum is the forum for you a place for you to be completely Numanized. You can apply for free membership NOW!.
Facebook
This group has been put together for fans of Gary Numan and visitors of the Numanme site, to discuses all things Numan sell/trade share stories and images from all aspects of Numan's career.
Weather Forecast
Podcast
Numanme Radio Podcast will be playing you some of the best Classic Alternative, New Wave, Dark Wave, Synth-Pop, and Punk. Also, a staple diet of Gary Numan/Tubeway Army without question. Shows will be updated here when they become available.
Photo Gallery
These galleries contain Gary Numan related photographs. ranging form the Tubeway Army days to present day. Feel free to browse and if you would like to add any of your own images please get in touch.
Poll
Vote for your favorite Gary Numan album or song.
Numan Quotes +
Replicas – The First Recordings CD
Title:

Replicas – The First Recordings

Suggested Video

Artist:

Gary Numan

Tracklist:

DISC 1

01. You Are In My Vision (Early Version)
02. The Machmen (Early Version)
03. Down In The Park (Early Version)
04. Do You Need The Service? (Early Version)
05. The Crazies
06. When The Machines Rock (Early Version)
07. Me! I Disconnect From You (Early Version)
08. Praying To The Aliens (Early Version)
09.It Must Have Been Years (Early Version)
10. Only A Downstat
11. I Nearly Married A Human 3 (Early Version)
12. Replicas (Early Version)
13. Are 'Friends' Electric? (Early Version)

DISC 2

01. Replicas (Early Version 2)
02. Down In The Park (Early Version 2)
03. Are 'Friends' Electric? (Early Version 2)
04. We Have A Technical
05. Replicas (Early Version 3)
06. Me, I Disconnect From You (BBC Peel Session)
07. Down In The Park (BBC Peel Session)
08. I Nearly Married a Human (BBC Peel Session)

How old:

This 2xCD is old!

Release Date:

October 11th 2019

Format:

2xCD

Record Label:

Beggars Banquet

Catalogue No:

BBQ2159CD

Price Guide:

£12.00

Country:

United Kingdom

Additional info:

Replicas – The First Recordings Deluxe CD

Highest Chart Position:

Deleted

Credits:

Gary Numan (Keyboards, Guitars, Vocals)
Paul Gardiner (Bass)
Jess Lidyard (Drums)

Produced by Gary Numan

Engineered by John Caffery
Assisted by Harvey Ishiki
Mixed by Rikki Sylvan, John Caffery, and Gary Numan.

Recorded at Gooseberry Studios, London
Mixed at Marcus Music AB, London.

Buy:
Additional Information
In late 1978, Gary Numan was booked into a small studio in London's Chinatown with the same musicians that had played on Tubeway Army's debut album, released a month earlier. Two stereo master tapes were compiled of eleven tracks. A month later they again went to Gooseberry Studio and recorded an additional three tracks, including "Are 'Friends' Electric?" and "Replicas". At the same time, the band recorded a session for the BBC's John Peel show, taping alternate versions of three songs from the December recordings. Finally Numan returned to an upgraded studio, Marthus Music, in February to overdub and remix the Gooseberry recordings into their released versions. Only one alternative out take still exists ("Down In The Park") which is included in this release.