Social Media
Get the lowdown on Gary Numan and follow us, join the Gary Numan community on social media. Join in the fun and have you say.
Amazon
Search for New and Used Gary Numan CDs, Vinyl, DVDs.
Tour Dates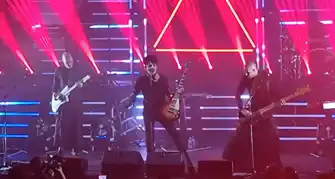 Check out the latest Gary Numan tour dates, events. See one of the founding fathers of synth pop.
Forum
To all Gary Numan fans the Numanme Forum is the forum for you a place for you to be completely Numanized. You can apply for free membership NOW!.
Facebook
This group has been put together for fans of Gary Numan and visitors of the Numanme site, to discuses all things Numan sell/trade share stories and images from all aspects of Numan's career.
Weather Forecast
Podcast
Numanme Radio Podcast will be playing you some of the best Classic Alternative, New Wave, Dark Wave, Synth-Pop, and Punk. Also, a staple diet of Gary Numan/Tubeway Army without question. Shows will be updated here when they become available.
Photo Gallery
These galleries contain Gary Numan related photographs. ranging form the Tubeway Army days to present day. Feel free to browse and if you would like to add any of your own images please get in touch.
Poll
Vote for your favorite Gary Numan album or song.
Numan Quotes +
Replicas 2015 Remastered Vinyl
Title:

Replicas 2015 Remastered Vinyl

Suggested Video

Artist:

Gary Numan

Tracklist:

A1. Me, I Disconnect From You
A2. Are 'Friends' Electric
A3. The Machman
A4. Praying To The Aliens
A5. Down In The Park
B1. You Are In My Vision
B2. Replicas
B3. It Must Have Been Years
B4. When The Machines Rock
B5. I Nearly Married A Human

How old:

This LP is old!

Release Date:

October 16th 2015

Format:

LP

Record Label:

Beggars Banquet

Catalogue No:

BBQLP 7

Price Guide:

£18.00

Country:

United Kingdom

Additional info:

2015 Remastered Vinyl.

Highest Chart Position:

N/A

Credits:

Gary Numan (Keyboards, Guitars, Vocals)
Paul Gardiner (Bass)
Jess Lidyard (Drums)

Produced by Gary Numan

Engineered by John Caffery
Assisted by Harvey Ishiki
Mixed by Rikki Sylvan, John Caffery, and Gary Numan.

Recorded at Gooseberry Studios, London
Mixed at Marcus Music AB, London .

Buy:
Additional Information
This was Gary Numan's first album to feature the heavy synth-driven machine music that is his trademark. The debut album, simply called Tubeway Army, was more a punk-rock affair. Replicas, released in 1979, is a classic album of its' time and has perhaps been overlooked by many who see Mr Numan as nothing other than an ersatz David Bowie. Sure enough, Numan was influenced by Bowie but let's face it, how many acts that appeared in the 80s weren't? Numan was obviously inspired by David Bowie's mid-70s work with Eno on the Berlin-era albums like Low and Hereos. It's clear that he was also influenced by other early pioneers of electronica such as Kraftwerk and pre-Midge Ure Ultravox. But that doesn't mean to say Gary Numan didn't make original music - he did and this album is the proof. Forget the later funk-rock experiments, messing about with aeroplanes and speaking up in support of Maggie Thatcher, Gary Numan never again matched the sheer brilliance of this album - a futuristic nightmare vision of a world controlled by replica humans, all set to sparsely arranged, haunting synth-based music. Sure, everybody knows Are Friends Electric?, but the real gems of this album are the lesser known tracks such as Replicas, Me I Disconnect From You and the utterly awesome Down In The Park.