Social Media
Get the lowdown on Gary Numan and follow us, join the Gary Numan community on social media. Join in the fun and have you say.
Amazon
Search for New and Used Gary Numan CDs, Vinyl, DVDs.
Tour Dates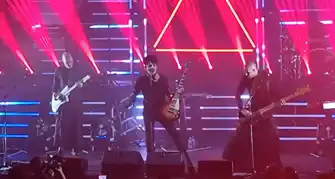 Check out the latest Gary Numan tour dates, events. See one of the founding fathers of synth pop.
Forum
To all Gary Numan fans the Numanme Forum is the forum for you a place for you to be completely Numanized. You can apply for free membership NOW!.
Facebook
This group has been put together for fans of Gary Numan and visitors of the Numanme site, to discuses all things Numan sell/trade share stories and images from all aspects of Numan's career.
Weather Forecast
Podcast
Numanme Radio Podcast will be playing you some of the best Classic Alternative, New Wave, Dark Wave, Synth-Pop, and Punk. Also, a staple diet of Gary Numan/Tubeway Army without question. Shows will be updated here when they become available.
Photo Gallery
These galleries contain Gary Numan related photographs. ranging form the Tubeway Army days to present day. Feel free to browse and if you would like to add any of your own images please get in touch.
Poll
Vote for your favorite Gary Numan album or song.
Numan Quotes +
TOS2020 CD
Title:

TOS2020

Suggested Video

Artist:

Various

Tracklist:

1. TOS2020 Beholden To The Front Line Workers Of The World mix
2. TOS2020 Trentemöller mix
3. TOS2020 Albie Mischenzingerzen Mix
4. TOS2020 Single Version

How old:

This CD is old!

Release Date:

October 23rd 2020

Format:

CD

Record Label:

SPV

Catalogue No:

SPV 243542 CD-EP, Oblivion (2) – SPV 243542 CD-EP, Live Here Now – SPV 243542 CD-EP, 33.3 Music Collective – SPV 243542 CD-EP

Price Guide:

£7.99

Country:

United Kingdom

Additional info:

N/A

Highest Chart Position:

N/A

Credits:

Artwork – Liam Feekery, Louise Hendy, Tim Perry (6)
Co-producer – Tim Palmer
Drum Programming [Additional Drum Editing] – Kevin Kipnis, Michael Rozon
Lyrics By – Hussey*
Mastered By – James Bacon (2)
Mixed By – Tim Palmer (tracks: 1, 4)
Music By – Adams*, Brown*, Hinkler*, Hussey*
Producer – Wayne*
Vocals [Musical / Vocal Contributors] – Andy Rourke, Billy Duffy, Budgie (2), Evi Vine, Gary Numan, James Alexander Graham*, Jay Aston, Julianne Regan, Kevin Haskins, Kirk Brandon, Lol Tolhurst*, Martin Gore*, Michael Aston, Michael Ciravolo, Midge Ure, Miles Hunt, Rachel Goswell, Richard Fortus, Robin Finck, Steve Clarke (22), Tim Palmer, Trentemøller, Wayne Hussey
Buy:
Additional Information
From Wayne Hussey:

"When Covid-19 hit I started receiving messages asking 'why don't you re-issue Tower Of Strength for the front line workers?' The song had apparently been adopted as an anthem by some NHS workers, and it got me thinking that I would like to contribute something to the greater cause at this unprecedented time and the only thing I could really contribute is music. So in conjunction with my good friend Michael Ciravolo, I came up with the idea of recording a new version of Tower Of Strength for charity by enlisting the help of musician friends and acquaintances. Tower Of Strength was first released by The Mission as single in 1988 and then again in 1994. It charted twice in the UK top 40 and has proved to be probably our biggest song and the one we generally close our shows with. It is anthemic. I wondered if recording a more well known song might have a greater reach but neither Michael or I could come up with any suggestions that seemed to fit lyrically without getting too corny. So Tower Of Strength it was then."

"Usually I detest things that are done for charity that are also self-serving, but I came up with a plan that satisfied my conscience. I spoke with my fellow Mission band members who co-wrote the song - Craig Adams, Mick Brown and Simon Hinkler - and we agreed to give up any publishing income generated by the new version to nominated charities, including mechanical and performance royalties and 100% of any revenue raised by sales. TOS2020 has been renamed to divert funds from the original version, and the charities will all be personally nominated by the people involved in its recording and release. Because the musical contributions are global our idea is that the proceeds will be divided and distributed equally among all the beneficiaries."

"Whilst all the versions will be available to listen to on all streaming platforms I'm gonna ask you to help the cause by buying at least the digital package which is priced at only £2.99. It's not much, is it? For the price of a coffee you'll receive all five versions. Come on, help us to help others."

Wayne Hussey, Sao Paulo, Brazil, 9th August, 2020..