Social Media
Get the lowdown on Gary Numan and follow us, join the Gary Numan community on social media. Join in the fun and have you say.
Amazon
Search for New and Used Gary Numan CDs, Vinyl, DVDs.
Tour Dates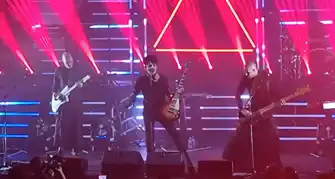 Check out the latest Gary Numan tour dates, events. See one of the founding fathers of synth pop.
Forum
To all Gary Numan fans the Numanme Forum is the forum for you a place for you to be completely Numanized. You can apply for free membership NOW!.
Facebook
This group has been put together for fans of Gary Numan and visitors of the Numanme site, to discuses all things Numan sell/trade share stories and images from all aspects of Numan's career.
Weather Forecast
Podcast
Numanme Radio Podcast will be playing you some of the best Classic Alternative, New Wave, Dark Wave, Synth-Pop, and Punk. Also, a staple diet of Gary Numan/Tubeway Army without question. Shows will be updated here when they become available.
Photo Gallery
These galleries contain Gary Numan related photographs. ranging form the Tubeway Army days to present day. Feel free to browse and if you would like to add any of your own images please get in touch.
Poll
Vote for your favorite Gary Numan album or song.
Numan Quotes +
Reinvention DVD-R
Title:

Reinvention

Suggested Video

Directed by:

Gary Numan

Tracklist:

01. Documentary on the career of Gary Numan.

How old:

This DVD-R is old!

Release Date:

May 1st 2011

Format:

DVD-R

Record Label:

N/A

Catalogue No:

N/A

Price Guide:

£10.00

Country:

United Kingdom

Additional info:

Withdrawn DVD-R documentary on the career of Gary Numan.

Highest Chart Position:

N/A

Credits:

N/A

Buy:
Additional Information
First broadcast (April 2011) documentary on the career of Gary Numan. From the Sky Arts 1 web site: '
After rising to fame with Are Friends Electric? In 1979 with Tubeway Army, Gary Numan saw major success, and a serious career slump, before he was rediscovered by a new generation of electro fans. Examining the rise, fall and reinvention of the 'Godfather of Electro', this documentary tackles the question that badgers many Numan fans: was his success despite his undiagnosed condition of Aspergers or because of it? It also reveals how he accidentally discovered his unique musical style and his love of display flying, as well as and how he deals with his loyal, but often hypercritical, fans'.

Bonus footage of a 30 minute TV interview with Dave Fanning from 2006 is also included

Includes contributions from Trent Reznor, Phil Oakey, Little Boots, Andy McCluskey, Noel Fielding & Martin Mills..