Social Media
Get the lowdown on Gary Numan and follow us, join the Gary Numan community on social media. Join in the fun and have you say.
Amazon
Search for New and Used Gary Numan CDs, Vinyl, DVDs.
Tour Dates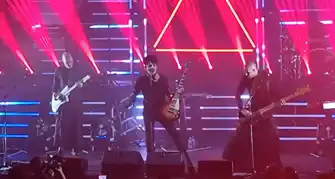 Check out the latest Gary Numan tour dates, events. See one of the founding fathers of synth pop.
Forum
To all Gary Numan fans the Numanme Forum is the forum for you a place for you to be completely Numanized. You can apply for free membership NOW!.
Facebook
This group has been put together for fans of Gary Numan and visitors of the Numanme site, to discuses all things Numan sell/trade share stories and images from all aspects of Numan's career.
Weather Forecast
Podcast
Numanme Radio Podcast will be playing you some of the best Classic Alternative, New Wave, Dark Wave, Synth-Pop, and Punk. Also, a staple diet of Gary Numan/Tubeway Army without question. Shows will be updated here when they become available.
Photo Gallery
These galleries contain Gary Numan related photographs. ranging form the Tubeway Army days to present day. Feel free to browse and if you would like to add any of your own images please get in touch.
Poll
Vote for your favorite Gary Numan album or song.
Numan Quotes +
Radio Heart Deluxe Edition LP
Title:

Radio Heart Deluxe Edition Vinyl

Suggested Video

Artist:

Gary Numan

Tracklist:

A1. Radio Heart
A2. Blue Nights
A3. Starlight Jingles
A4. Strange Thing
A5. All Across The Nation
B1. I`m Alone
B2. Mad About The Girl
B3. London Times
B4. The Victim
B5. Like A Refugee (I Wont Cry) (Radio Mix)
C1. Radio Heart (Extended Mix)
C2. London Times (Extended Mix)
C3. All Across The Nation (Extended Mix)
C4. Like A Refugee (I Wont Cry) (Pandemonium Mix)
C5. Mistasax
D1. Rumour
D2. River
D3. All Across The Nation (Instrumental)
D5. Like A Refugee (I Wont Cry) (Acoustic Mix)

How old:

This 2xLP is old!

Release Date:

August 24th 2018

Format:

LP

Record Label:

Demon Records

Catalogue No:

DEMRECDLX008

Price Guide:

£27.99

Country:

United Kingdom

Additional info:

2xLP Deluxe Edition Vinyl.

Highest Chart Position:

N/A

Credits:

Concept By, Sequenced By – Stephen Thorpe
Design [At Storey London Design] – Mike Storey (2)
Engineer [Uncredited] – Danton Supple (tracks: B5, C4, D5)
Mastered By [Uncredited] – Phil Kinrade
Producer – David Nicholson, Hugh Nicholson
Product Manager – Allen Ward
Written-By – David Nicholson (tracks: B1), Gary Numan (tracks: D1 to D3), Hugh Nicholson (tracks: A1 to A5, B2 to B5, C1 to C4, D4, D5).

Buy:
Additional Information
Gary Numan and Hugh Nicholson first worked together on the single 'Radio Heart' which, when released, became a BBC Radio 1 Playlist Chartbuster remaining in the UK Top Thirty singles chart for six weeks. The unique vocals of Gary accompanied by the thunderous rhythms of the band Radio Heart caught the media by surprise with the single quickly becoming an airplay hit across Europe and the USA. The follow up singles 'London Times' and 'All across the nation' also entered the UK singles chart. In 1993 Hugh wrote 'Like a Refugee (I Won't Cry)' which was played to Gary in his dressing room prior to his concert performance at Birmingham Town Hall. On hearing the song and viewing a video of the masked percussionists Dadadang of Bergamo, Italy. Gary arranged to record his vocals the following day at Westside Studios in London. The engineer working with Hugh and brother David on this project was Danton Supple currently Coldplay's producer. 'Like A Refugee (I Won't Cry)' was released in the UK and Europe to critical acclaim. Packaged as a double-LP gatefold with printed inner sleeves with lyrics, on heavyweight coloured vinyl. This double LP contains the original album along with alternative mixes and b-sides that feature solo Gary Numan song.