Social Media
Get the lowdown on Gary Numan and follow us, join the Gary Numan community on social media. Join in the fun and have you say.
Amazon
Search for New and Used Gary Numan CDs, Vinyl, DVDs.
Tour Dates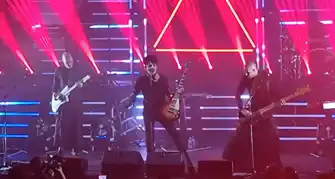 Check out the latest Gary Numan tour dates, events. See one of the founding fathers of synth pop.
Forum
To all Gary Numan fans the Numanme Forum is the forum for you a place for you to be completely Numanized. You can apply for free membership NOW!.
Facebook
This group has been put together for fans of Gary Numan and visitors of the Numanme site, to discuses all things Numan sell/trade share stories and images from all aspects of Numan's career.
Weather Forecast
Podcast
Numanme Radio Podcast will be playing you some of the best Classic Alternative, New Wave, Dark Wave, Synth-Pop, and Punk. Also, a staple diet of Gary Numan/Tubeway Army without question. Shows will be updated here when they become available.
Photo Gallery
These galleries contain Gary Numan related photographs. ranging form the Tubeway Army days to present day. Feel free to browse and if you would like to add any of your own images please get in touch.
Poll
Vote for your favorite Gary Numan album or song.
Numan Quotes +
Radial Pair Display Team

Gary Numan and Norman Lees joined forces to form the two man Radial Pair team, two men from totally different walks of life Gary Numan the musician and Norman Lees from a military background but they shared a passion, flying. Gary and Norman both operated two 1943 Harvard 2B aircraft in a routine of formation aerobatics and synchronised opposition manoeuvres during the 1992 air display circuit.

Gary and Norman wanted to be different. Nobody had a pair of warbirds doing aviation aerobatics. Display aviation is about planning and being flexible. Every show has a tremendous amount of work that is put in, often by people who are volunteers. Robert Paulding and Colin Wingrave played a big part in the team as ground crew they both enjoy being around planes and help us do our job efficiently.

Gary Numan - "To fly with Norman, to do what we do there has to be trust. Norman is a professional, what he does is difficult especially with the aircraft we fly. I have 100% trust in him"

Norman Lees - "Gary is good at putting us in the right position at the right time, because if he doesn't I can't carry out the next manoeuvre, that's where the trust comes in"

Air display flying is unquestionably one of the most dangerous and demanding disciplines in aviation, fast and furious with no margin for error. Displaying a warbird offers any pilot or owner a number of problems. These valuable aircraft have to display in a way which is both pleasing to the eye in terms of presentation and exciting in order to maintain the interest of the crowd. They must also be respectful to the many enthusiasts who travel many miles to an airshow venue to see these living examples of our aviation history built for the purpose of competition aerobatics. Using their past and present experience as part of the Harvard Formation Team. The Radial pair have choreographed their display to fulfill these requirements. Making good use of the Japanese and RAF paint schemes, the organiser can also use the aircraft for battle scenarios as doth are fitted with smoke systems to play the 'vanquished' in any set piece.
Gary Numan

Gary Numan is one of the UK's best known display pilots. As well as running a long and highly successful career as a musician, Gary has built an impressive list of aviation ahievements since gaining his PPL at Blackbusho in 1980.

In 1981 Gary and Bob Thompson successfully flew around the world in a Piper Navajo. Their first attempt ended in India where they were arrested under suspicion of smuggling and spying!

Gary bought his Harvard in 1984 and one year later joined the Harvard Formaton team. As a key member for over six years, he has choreographed the last three display sequences, leading the solo and formation aerobatic sections throughout the Teams history.

With over 650 hours on the Harvard and extensive display experience, Gary has been appointed by the CAA as an Air Display Pilot Evaluator. Gary holds licences for piston and turbine helicopters and has fixed wing multi engined rating.
Norman Lees

Norman Lees learned to glide in Australia. gained his PPL in 1976 and in the same year joined the Royal Navy as a Commando helicopter pilot.

He served in Northern Ireland with the Navy and the Royal Air Force as an exchange officer, returning to the Navy for the Falkiands conflict. After 3 years on Search and Rescue, Norman became an lnstructor on Sea Kings.

In 1988 he joined Dan Air as a First Officer on the Boeing 727. but still instructs on the Sea King as a Lieutenant Commander in the Royal Naval Reserve.

Norman first flew the Harvard in 1984 and was a founder member of the Harvard Formation Team, leading it in 1990. He displayed the Royal
Navy Historic Flights Fairey Firefly for 3 seasons and In 1990 ferried a Sea Fury across the Atlantic from Ohio to the UK.

In 1991 he delivered an ex-Libyan L39 Albatross jet from Chad across the Sahara Desert to the UK, accompanied by Pete John in another L39.
Sadly Norman Lees was Killed on Saturday 8th April 2000, while checking out a rare two seat version of a world war two fighter. At the time of his death Norman had started to fly for Virgin Atlantic .

"Flying gets into your blood, nothing else gives the same thrill and satisfaction" (Norman Lees) 9th September1950 - 8th April 2000.