Social Media
Get the lowdown on Gary Numan and follow us, join the Gary Numan community on social media. Join in the fun and have you say.
Amazon
Search for New and Used Gary Numan CDs, Vinyl, DVDs.
Tour Dates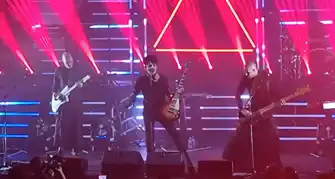 Check out the latest Gary Numan tour dates, events. See one of the founding fathers of synth pop.
Forum
To all Gary Numan fans the Numanme Forum is the forum for you a place for you to be completely Numanized. You can apply for free membership NOW!.
Facebook
This group has been put together for fans of Gary Numan and visitors of the Numanme site, to discuses all things Numan sell/trade share stories and images from all aspects of Numan's career.
Weather Forecast
Podcast
Numanme Radio Podcast will be playing you some of the best Classic Alternative, New Wave, Dark Wave, Synth-Pop, and Punk. Also, a staple diet of Gary Numan/Tubeway Army without question. Shows will be updated here when they become available.
Photo Gallery
These galleries contain Gary Numan related photographs. ranging form the Tubeway Army days to present day. Feel free to browse and if you would like to add any of your own images please get in touch.
Poll
Vote for your favorite Gary Numan album or song.
Numan Quotes +
(R)evolution: The Autobiography - Audiobook
Title:

(R)evolution: The Autobiography

Suggested Video

Artist:

Gary Numan

Narrator:

Gary Numan

Author:

Gary Numan

Tracklist:

Listening Length 14 hours and 5 minutes
Opening Credits
Chapter One
Chapter Two
Chapter Three
Chapter Four
Chapter Five
Chapter Six
Chapter Seven
Chapter Eight
Chapter Nine
Chapter Ten
Chapter Eleven
Chapter Twelve
Chapter Thirteen
Chapter Fourteen
Chapter Fifteen
Chapter Sixteen
Chapter Seventeen
Chapter Eighteen
Chapter Nineteen
Chapter Twenty
Chapter Twenty-one
Chapter Twenty-two
Chapter Twenty-three
Chapter Twenty-four
Chapter Twenty-five
Chapter Twenty-six
Chapter Twenty-seven
Chapter Twenty-eight
Chapter Twenty-nine
Chapter Thirty
Chapter Thirty-one
Chapter Thirty-two
Chapter Thirty-three
Chapter Thirty-four
Chapter Thirty-five
Chapter Thirty-six
Chapter Thirty-seven
Chapter Thirty-eight
Chapter Thirty-nine
Chapter Forty
Chapter Forty-one
Chapter Forty-two
Chapter Forty-three
Chapter Forty-four
Chapter Forty-five
Acknowledgement
End Credits

How old:

This Audiobook is old!

Release Date:

April 29th 2021

Format:

Audiobook

Record Label:

Hachette Audio UK

Catalogue No:

ASIN B08KGCRZLM

Price Guide:

£19.24

Country:

United Kingdom

Additional info:

Version Unabridged.

Highest Chart Position:

N/A

Buy:
Additional Information
From humble beginnings in Middlesex, where money was scarce but dreams were encouraged, to the award-winning godfather of electronica, Gary Numan has seen it all. His incredible story can be charted in two distinct parts....

The first: a stratospheric rise to success quickly followed by a painful decline into near obscurity. At school, Gary fell through the cracks of the system and was expelled. An unlikely but determined popstar, he earned his first record deal aged 19 and, two years later, had released four best-selling albums and had twice toured the world. But, aged just 25, it felt like it was all over. Gary's early success began to hold him back and he battled to reconcile the transient nature of fame with his Asperger's syndrome.

The second: a 20-plus year renaissance catalysed by a date with a super-fan. Gary catalogues his 15-year struggle with crippling debts, his slow, obstacle-laden journey back to the top (and the insecurity that comes with that) and why Savage reaching number two in 2017 meant more than the heady heights of 1979. Gary also candidly discusses the importance of his fans, why having Asperger's is a gift at times, the inspiration behind the lyrics, flying around the world in 1981, IVF struggles and the joy of fatherhood and his battle with depression and anxiety.

(R)evolution is the roller-coaster rise and fall (and rise) of one man, several dozen synthesisers, multiple issues and two desperately different lives. By turns hilarious and deeply moving, this is Gary Numan in his own words - a brutally honest reflection on the man behind the music.