Social Media
Get the lowdown on Gary Numan and follow us, join the Gary Numan community on social media. Join in the fun and have you say.
Amazon
Search for New and Used Gary Numan CDs, Vinyl, DVDs.
Tour Dates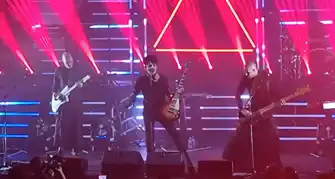 Check out the latest Gary Numan tour dates, events. See one of the founding fathers of synth pop.
Forum
To all Gary Numan fans the Numanme Forum is the forum for you a place for you to be completely Numanized. You can apply for free membership NOW!.
Facebook
This group has been put together for fans of Gary Numan and visitors of the Numanme site, to discuses all things Numan sell/trade share stories and images from all aspects of Numan's career.
Weather Forecast
Podcast
Numanme Radio Podcast will be playing you some of the best Classic Alternative, New Wave, Dark Wave, Synth-Pop, and Punk. Also, a staple diet of Gary Numan/Tubeway Army without question. Shows will be updated here when they become available.
Photo Gallery
These galleries contain Gary Numan related photographs. ranging form the Tubeway Army days to present day. Feel free to browse and if you would like to add any of your own images please get in touch.
Poll
Vote for your favorite Gary Numan album or song.
Numan Quotes +
Pleasure In Heaven Remixes
Title:

Pleasure In Heaven Remixes

Suggested Video

Artist:

Motoe feat, Gary Numan

Tracklist:

1. Drumcell Remix
2. Xhin Remix
3. Original

How old:

This 12" Maxi Single/Download is old!

Release Date:

October 1st 2012

Format:

12" Maxi Single / Digital Download

Record Label:

CLRX

Catalogue No:

CLR063VINYL / CLR063MP3/CLR063WAV

Price Guide:

£15.00 12" Maxi Single, £3.00 Digital Download

Country:

United Kingdom

Additional info:

12" 3 track picture disc, limited issues. and Download.

Highest Chart Position:

N/A

Credits:

Gary Numan

Buy:
Additional Information
This limited edition picture disc with brand new remixes of the latest MOTOR single, taken from their recent milestone album 'Man Made Machine' out on CLRX. The featured vocalist on this fourth edition of the series is none other than Gary Numan, a true legend and another undisputed electronic music pioneer. He is equally known for his chart-topping hits in the 70s and 80s as for his signature sound of heavy synthesizer hooks and massively processed guitars who inspired countless acclaimed musicians of our time. MOTOR feat. Gary Numan
'Pleasure In Heaven' is an encounter of two generations of gifted electronic musicians and could be considered a little piece of electronic music history itself. For this challenging task the Singaporean dj/producer Xhin and the South Californian Drumcell, two cutting edge techno artists have been called on the remix duties and have delivered highly powerful and thrilling versions of this song. While Xhin uses Gary Numan´s vocals predominantly as atmospheric elements, enriching and enchanting the deep and driving track, Drumcell´s mix is almost like an alternative full vocal mix with a slow and mesmerizing yet raw and uncompromising approach. Supremely honoring the innovative techno roots of MOTOR, both versions show a lot of the artist´s outstanding production skills and complement one another perfectly in their dissimilarity. Apart from the strictly limited collector´s item picture discs.