Social Media
Get the lowdown on Gary Numan and follow us, join the Gary Numan community on social media. Join in the fun and have you say.
Amazon
Search for New and Used Gary Numan CDs, Vinyl, DVDs.
Tour Dates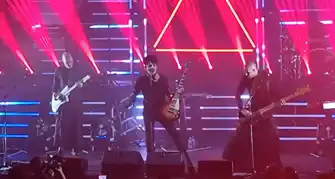 Check out the latest Gary Numan tour dates, events. See one of the founding fathers of synth pop.
Forum
To all Gary Numan fans the Numanme Forum is the forum for you a place for you to be completely Numanized. You can apply for free membership NOW!.
Facebook
This group has been put together for fans of Gary Numan and visitors of the Numanme site, to discuses all things Numan sell/trade share stories and images from all aspects of Numan's career.
Weather Forecast
Podcast
Numanme Radio Podcast will be playing you some of the best Classic Alternative, New Wave, Dark Wave, Synth-Pop, and Punk. Also, a staple diet of Gary Numan/Tubeway Army without question. Shows will be updated here when they become available.
Photo Gallery
These galleries contain Gary Numan related photographs. ranging form the Tubeway Army days to present day. Feel free to browse and if you would like to add any of your own images please get in touch.
Poll
Vote for your favorite Gary Numan album or song.
Numan Quotes +
Petals CD
Title:

Petals

Suggested Video

Artist:

Officers

Tracklist:

Disc 1 green

Officers FEAT. Gary Numan - Petals
Lyrics written by Matthew Southall
Music written by Matthew Southall & Jamie Baker
Vocals on Petals by Gary Numan
Gary Numan appears courtesy of Mortal Records
Produced & mixed by Matthew Southall
Recorded by OFFICERS at the Mosquito Dorm
www.OFFICERS.uk.com

CD 2 blue

Officers FEAT. Gary Numan - Petals
(The Jagz Kooner Remix)
Additional production, remix & instrumentation by Jagz Kooner & Yigit Bulbul
Recorded and mixed at Echoplex Satellite

CD 3 yellow

Officers FEAT. Gary Numan - Petals
(Losers Rose Remix)
Reconstruction, additional production
& instrumentation by Tom Bellamy and Eddy Temple-Morris at Laboratoire Losers (because you're worth it) Losers enquires worldwide: bernegger.marc@bluewin.ch Mastered by Pete Maher for 140db www.140db.co.uk
Art, Design & Direction by Stuart Semple
Concept: Jamie Baker & Eddy Temple Morris

How old:

This CD is old!

Release Date:

May 1st 2012

Format:

CD

Record Label:

OWOD Recordings

Catalogue No:

N/A

Price Guide:

£0.00

Country:

United Kingdom

Additional info:

Charity CDs given away on a first come first served basis.

Highest Chart Position:

N/A

Credits:

Gary Numan

Buy:
Additional Information
Officers collaborated with electro pioneer and godfather Gary Numan.'Petals' the Numan & Officers track was given away on a first come first served basis, exclusively during Numan's 2012 Machine Music Tour. The track was available as a limited edition (100 copies only) physical collaboration package, handmade, and designed by acclaimed British artist Stuart Semple.

The edition wascomprise a black foil envelope, revealing 3 individual CDs each with a unique version of the track, and a mini art print specifically designed, numbered and signed by Stuart for this unique collaboration.
Along with the Numan & Officers track, the additional CDs will include a unique rework from uber producer, re-mixer and superstar DJ JAGZ KOONER and another special remix by LOSERS - headed up by XFMs legendary Eddy Temple Morris, Paul Mullen from YourCodeNameIs:Milo and The Cooper Temple Clause's Tom Bellamy.


Alongside Numan and Semple, Jagz and Eddy have both been long term supporters of the band. OFFICERS are excited and honored to play host to this unique five way collaboration stretching across art and music. More significantly though, is the fact that all proceeds of the digital sales (music + artwork available) will be going to charity, CALM, Campaign Against Living Miserably, to reduce the high suicide rate amongst men under 35, http://www.thecalmzone.net/


A QR code directing you to CALMs donation page will come with the package. We hope you will follow the link, donate whatever you can afford - or share with your friends to raise awareness of this important charity – think of it a bit like a futuristic honesty box. Or go to, http://www.justgiving.com/calm.