Social Media
Get the lowdown on Gary Numan and follow us, join the Gary Numan community on social media. Join in the fun and have you say.
Amazon
Search for New and Used Gary Numan CDs, Vinyl, DVDs.
Tour Dates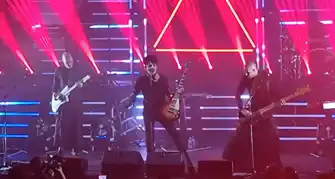 Check out the latest Gary Numan tour dates, events. See one of the founding fathers of synth pop.
Forum
To all Gary Numan fans the Numanme Forum is the forum for you a place for you to be completely Numanized. You can apply for free membership NOW!.
Facebook
This group has been put together for fans of Gary Numan and visitors of the Numanme site, to discuses all things Numan sell/trade share stories and images from all aspects of Numan's career.
Weather Forecast
Podcast
Numanme Radio Podcast will be playing you some of the best Classic Alternative, New Wave, Dark Wave, Synth-Pop, and Punk. Also, a staple diet of Gary Numan/Tubeway Army without question. Shows will be updated here when they become available.
Photo Gallery
These galleries contain Gary Numan related photographs. ranging form the Tubeway Army days to present day. Feel free to browse and if you would like to add any of your own images please get in touch.
Poll
Vote for your favorite Gary Numan album or song.
Numan Quotes +
On The Twelve Thrones
Title:

On The Twelve Thrones

Suggested Video

Artist:

Officers

Tracklist:

01. Counting My Guns
02. Disarm
03. The Competition Winner
04. Co-Education
05. Good Day (To Die)
06. All the Ghosts Away
07. Afraid of Your Love
08. Say It Again
09. Mosquito
10. Soul Saviour (Mutations)
11. Another Long Year
12. Petals Feat. Gary Numan

How old:

This CD is old!

Release Date:

October 1st 2012

Format:

CD

Record Label:

Original wall of death Recordings

Catalogue No:

OUT 571

Price Guide:

£8.99

Country:

United Kingdom

Additional info:

Officers ambitious debut album 'On The Twelve Thrones'

Highest Chart Position:

N/A

Credits:

Gary Numan

Buy:
Additional Information
Officers ambitious debut album On The Twelve Thrones will be commercially re-issued on 29 October 2012, via Cargo, and will feature expanded artwork and the Numan collaboration as an additional bonus track. The bands creative heartbeat consists of long time friends Matthew Southall and Jamie Baker. On The Twelve Thrones , was recorded and produced in the band's hometown of Leeds, UK, with final mix touches from Dave Bascombe (Depeche Mode) and Death In Vegas' Tim Holmes. OFFICERS bring an eclectic mix of brooding futuristic sounds to a record tackling mans constant battle against the machine of; religion, government and the digital form.The album also sees a collaboration with friend and acclaimed British artist Stuart Semple (who previous work includes Lady Gaga and The Prodigy), on all the artwork and creative designs. The aim being to give their music a greater visual impact, and to remind listeners what an immersive experience holding different physical products from your favourite artists can feel like. During last year s London Frieze Art Fair, Semple and the band set up an installation within London s legendary Rough Trade East, which led visitors to enter a matt black shack, where they could listen to the album in a multi-sensory space..