Social Media
Get the lowdown on Gary Numan and follow us, join the Gary Numan community on social media. Join in the fun and have you say.
Amazon
Search for New and Used Gary Numan CDs, Vinyl, DVDs.
Tour Dates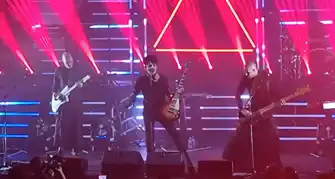 Check out the latest Gary Numan tour dates, events. See one of the founding fathers of synth pop.
Forum
To all Gary Numan fans the Numanme Forum is the forum for you a place for you to be completely Numanized. You can apply for free membership NOW!.
Facebook
This group has been put together for fans of Gary Numan and visitors of the Numanme site, to discuses all things Numan sell/trade share stories and images from all aspects of Numan's career.
Weather Forecast
Podcast
Numanme Radio Podcast will be playing you some of the best Classic Alternative, New Wave, Dark Wave, Synth-Pop, and Punk. Also, a staple diet of Gary Numan/Tubeway Army without question. Shows will be updated here when they become available.
Photo Gallery
These galleries contain Gary Numan related photographs. ranging form the Tubeway Army days to present day. Feel free to browse and if you would like to add any of your own images please get in touch.
Poll
Vote for your favorite Gary Numan album or song.
Numan Quotes +
Numan & M.E.: Memories of a Numanoid
Title:

Numan & M.E.: Memories of a Numanoid

Artist:

Gary Numan/Tubeway Army

Auther

Gary M Choppen

Publisher

CreateSpace Independent Publishing Platform; 1 edition

How old:

This Book is old!

Release Date:

December 5th 2016

Format:

Paperback Book

ISBN:

978-1540723093

Price Guide:

£10.99

Country:

United Kingdom

Additional info:

Paperback Book Book 230 pages

Buy:
Additional Information
Gary Choppen was born in East London on 8th March 1968 and is the eldest of four children. He spent most of his childhood in Basingstoke, Hampshire and it is there where he met his wife, Pauline. Gary moved to Norfolk in August 2016 and works as a full-time DJ.

In April 1979 at the age of 11, Gary's life changed after hearing the track 'Are 'Friends' Electric?' by Gary Numan's band, Tubeway Army. After hearing that song blaring out of the speaker of his radio cassette recorder (a Christmas present from his parents in 1978), the next 37 years would bring lots of adventures and memorable moments as he became a fan of Gary Numan and his electronic music. Gary attended many gigs, collected lots of records and met Numan on a number of occasions too. He even shares the same birthday.
NUMAN & M.E. Memories of a Numanoid, is Gary's first book. Creating it has been an enjoyable experience and the positive feedback received so far is encouraging.