Social Media
Get the lowdown on Gary Numan and follow us, join the Gary Numan community on social media. Join in the fun and have you say.
Amazon
Search for New and Used Gary Numan CDs, Vinyl, DVDs.
Tour Dates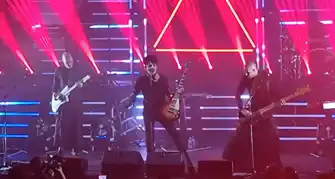 Check out the latest Gary Numan tour dates, events. See one of the founding fathers of synth pop.
Forum
To all Gary Numan fans the Numanme Forum is the forum for you a place for you to be completely Numanized. You can apply for free membership NOW!.
Facebook
This group has been put together for fans of Gary Numan and visitors of the Numanme site, to discuses all things Numan sell/trade share stories and images from all aspects of Numan's career.
Weather Forecast
Podcast
Numanme Radio Podcast will be playing you some of the best Classic Alternative, New Wave, Dark Wave, Synth-Pop, and Punk. Also, a staple diet of Gary Numan/Tubeway Army without question. Shows will be updated here when they become available.
Photo Gallery
These galleries contain Gary Numan related photographs. ranging form the Tubeway Army days to present day. Feel free to browse and if you would like to add any of your own images please get in touch.
Poll
Vote for your favorite Gary Numan album or song.
Numan Quotes +
Man Made Machine CD
Title:

Man Made Machine

Suggested Video

Artist:

Motor

Tracklist:

01. Messed Up
02. Hyper Lust (feat. Billie Ray Martin)
03. Man Made Machine (feat. Martin L. Gore)
04. Control
05. Pleasure In Heaven (feat. Gary Numan)
06. Automne
07. Autographic
08. The Knife (feat. Douglas McCarthy)
09. Hello (feat. Reni Lane)
10. In The Dark
11. Between The Night

How old:

This CD is old!

Release Date:

April 1st 2012

Format:

CD

Record Label:

CLR

Catalogue No:

CLRXCD1

Price Guide:

£8.00

Country:

United Kingdom

Additional info:

180g Grey Vinyl.

Highest Chart Position:

N/A

Credits:

Art Direction – Stefan Batsch
Lyrics By – Bryan Black (tracks: 1 to 7, 10, 11), D. Pattillo* (tracks: 9), Douglas J. McCarthy* (tracks: 8)
Mastered By – Sanhaji Mastering
Mixed By, Producer [Additional] – Howie Beno
Photography By – Timothy Saccenti
Written-By, Producer – MOTOR (2)

Buy:
Additional Information
After completing three massively successful and critically acclaimed techno albums, Bryan Black and Oly Grasset, who together form the duo Motor, have shifted gears and recorded a song-based vocal album by the name of Man Made Machine .

The album was conceived during their World tour with Depeche Mode in 2009 when Dave Gahan fell ill and the band found themselves in a hotel in Berlin with time on their hands. It features the vocalists Martin L Gore (Depeche Mode), Gary Numan, Billie Ray Martin (S Express, Electribe 101) and Motown s rising new star Reni Lane.

The reactions from Depeche Mode and Motor fans are absolutely ecstatic. One online comment is that the track Man Made Machine brings to mind a modern version of the Depeche Mode track Personal Jesus - a royal honour for the guys from Motor.

It s no coincidence that the album features some of the key figures in the evolution of electronic music. Motor have played as main support act on sold out tours for Gary Numan, Nitzer Ebb and Depeche Mode, and have been considered one of their best received support acts. They have performed on the main stages of all the top festivals, with acts like Daft Punk, Kraftwerk, Soulwax and Justice, amongst others, and they re known for having one of the most explosive and entertaining live shows in dance music.