Social Media
Get the lowdown on Gary Numan and follow us, join the Gary Numan community on social media. Join in the fun and have you say.
Amazon
Search for New and Used Gary Numan CDs, Vinyl, DVDs.
Tour Dates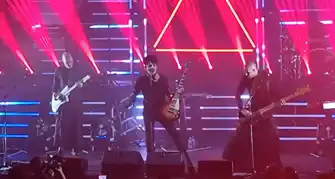 Check out the latest Gary Numan tour dates, events. See one of the founding fathers of synth pop.
Forum
To all Gary Numan fans the Numanme Forum is the forum for you a place for you to be completely Numanized. You can apply for free membership NOW!.
Facebook
This group has been put together for fans of Gary Numan and visitors of the Numanme site, to discuses all things Numan sell/trade share stories and images from all aspects of Numan's career.
Weather Forecast
Podcast
Numanme Radio Podcast will be playing you some of the best Classic Alternative, New Wave, Dark Wave, Synth-Pop, and Punk. Also, a staple diet of Gary Numan/Tubeway Army without question. Shows will be updated here when they become available.
Photo Gallery
These galleries contain Gary Numan related photographs. ranging form the Tubeway Army days to present day. Feel free to browse and if you would like to add any of your own images please get in touch.
Poll
Vote for your favorite Gary Numan album or song.
Numan Quotes +
Losing Myself In You 7"
Title:

Losing Myself In You

Suggested Video

Artist:

Vows

Tracklist:

A1. Losing Myself In You feat. Gary Numan
B2. Against the Gates

How old:

This 7" is old!

Release Date:

July 1st 2015

Format:

7"

Record Label:

Cleopatra

Catalogue No:

2291

Price Guide:

£12.99

Country:

United Kingdom

Additional info:

The debut 7″ from Australian Industrial duo featuring the single "Losing Myself In You" with Gary Numan

Highest Chart Position:

N/A

Credits:

Gary Numan

Buy:
Additional Information
VOWWS make their Cleopatra debut with this 7" of the band's new single featuring vocals by the godfather of industrial music, Gary Numan.

The duo had moved to LA after signing a deal with Cleopatra Records, getting to work on an LP with producer Kevin McMahon (SWANS, Titus Andronicus, The Walkmen). They then approached Numan with "Losing Myself in You", a track they'd written specifically with his vocals in mind. Immediately impressed, the notoriously selective British electro pioneer agreed to appear on the song.

"Losing Myself" is a barrage of percussive bombs, an assault that rattles the heart as it pounds on. Synths drone and swirl like entrancing spells of their own, while guitars crunch and stalk triumphantly. Numan's unmistakable vocals ring out in the oddly light chorus — like a weighted balloon — backed by the VOWS members themselves. Check it out via the lyric video below.

"Losing Myself in You" will be available as a 7-inch single b/w "Against the Gates". Considering how Numan's last collaboration, 2011's "My Machine" with Battles, spurred him on to complete his most recent record, Splinter (Songs from a Broken Mind), who knows where working with such kindred spirits as VOWS will take him?