Social Media
Get the lowdown on Gary Numan and follow us, join the Gary Numan community on social media. Join in the fun and have you say.
Amazon
Search for New and Used Gary Numan CDs, Vinyl, DVDs.
Tour Dates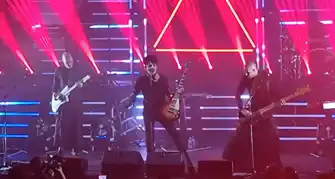 Check out the latest Gary Numan tour dates, events. See one of the founding fathers of synth pop.
Forum
To all Gary Numan fans the Numanme Forum is the forum for you a place for you to be completely Numanized. You can apply for free membership NOW!.
Facebook
This group has been put together for fans of Gary Numan and visitors of the Numanme site, to discuses all things Numan sell/trade share stories and images from all aspects of Numan's career.
Weather Forecast
Podcast
Numanme Radio Podcast will be playing you some of the best Classic Alternative, New Wave, Dark Wave, Synth-Pop, and Punk. Also, a staple diet of Gary Numan/Tubeway Army without question. Shows will be updated here when they become available.
Photo Gallery
These galleries contain Gary Numan related photographs. ranging form the Tubeway Army days to present day. Feel free to browse and if you would like to add any of your own images please get in touch.
Poll
Vote for your favorite Gary Numan album or song.
Numan Quotes +
Live At Hammersmith Odeon-1989-LP
Title:

Live At Hammersmith Odeon 1989

Suggested Video

Artist:

Gary Numan

Tracklist:

A1 - America
A2 - Me I Disconnect from You
A3 - Creatures
A4 - Cars
A5 - Down in the Park
A6 - Devious
B1 - I Can't Stop
B2 - Are Friends Electric?
B3 - Call Out The Dogs
B4 - We Are Glass

How old:

This LP is old!

Release Date:

October 6th 2017

Format:

LP

Record Label:

Demon

Catalogue No:

DEMREC233

Price Guide:

£17.00

Country:

United Kingdom

Additional info:

Released for the first time on red vinyl. The track order on the vinyl is different to the sleeve listing. The track order above is accurate.
Devious is listed as the first track on Side B, but is in fact the sixth track on Side A.

Highest Chart Position:

N/A

Credits:

Gary Numan (Vocals)
RRussell Bell (Guitar)
Andy Coughlan (Bass)
Chris Payne (Keyboards, Violin)
Ade Orange (Keyboards, Sax)
Ced Sharpley (Drums)
John Webb (Sax)
Val Chalmers (Vocals)
Emma Chalmers (Vocals)

Recorded at Dominion Theatre, London September 28, 1988.

Design – Mike Storey
Legal [Licensing] – James Gorely
Photography By – Ian Dickson
Product Manager – Allen Ward

Buy:
Additional Information
On the 26th of October 1989, Gary Numan performed the London show from his 'The Skin Mechanic Tour 89' at the Hammersmith Odeon. This legendary performance included the hit songs Cars, We Are Glass & I Can't Stop. Released for the first time on red vinyl.