Social Media
Get the lowdown on Gary Numan and follow us, join the Gary Numan community on social media. Join in the fun and have you say.
Amazon
Search for New and Used Gary Numan CDs, Vinyl, DVDs.
Tour Dates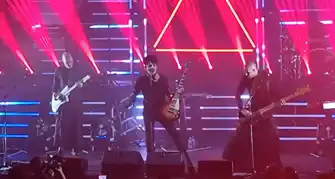 Check out the latest Gary Numan tour dates, events. See one of the founding fathers of synth pop.
Forum
To all Gary Numan fans the Numanme Forum is the forum for you a place for you to be completely Numanized. You can apply for free membership NOW!.
Facebook
This group has been put together for fans of Gary Numan and visitors of the Numanme site, to discuses all things Numan sell/trade share stories and images from all aspects of Numan's career.
Weather Forecast
Podcast
Numanme Radio Podcast will be playing you some of the best Classic Alternative, New Wave, Dark Wave, Synth-Pop, and Punk. Also, a staple diet of Gary Numan/Tubeway Army without question. Shows will be updated here when they become available.
Photo Gallery
These galleries contain Gary Numan related photographs. ranging form the Tubeway Army days to present day. Feel free to browse and if you would like to add any of your own images please get in touch.
Poll
Vote for your favorite Gary Numan album or song.
Numan Quotes +
Legacy Live DVD
Title:

LEGACY. Live at The Olympia, Liverpool

Suggested Video

Artist:

Gary Numan

Tracklist:

01 - Replicas
02 - Metal
03 - Remind Me To Smile
04 - Me, I Disconnect From You
05 - Films
06 - The Joy Circuit
07 - You Are In My Vision
08 - M.E.
09 - This Wreckage
10 - We Are So Fragile
11 - Observer
12 - I'm An Agent
13 - Down In The Park
14 - Tracks
15 - We Are Glass
16 - Are 'Friends' Electric?
17 - Cars
18 - I Die: You Die
19 - Everyday I Die
20 - My Shadow In Vain

How old:

This DVD is old!

Release Date:

September 16th 2017

Format:

DVD

Record Label:

Machine Music USA INC

Catalogue No:

MM-DVD-1701

Price Guide:

£21.99

Country:

United Kingdom

Additional info:

The DVD also includes a fascinating behind the scenes interview with Gary.

Highest Chart Position:

N/A

Credits:

Gary Numan - Vocals, Guitar, Keyboards
Steve Harris - Guitar
Richard Beasley - Drums
Tim Muddiman - Bass
David Brooks - Keyboards
Dave Dupuis - Front Of House Sound / Tour Manager
Oren Karpovsky - Guitar / Keys Tech
James Lucido - Drum Tech
Luke Edwards - Lighting
Miles Kendrick - Merchandise
Andy Clyne - Merchandise
Gemma Webb - Hair & Make Up / Wardrobe
Produced By - Gary Numan
Recorded By - Martin Knight
Mixed By - Fred Archambault
Original Album Photography By - Geoff Howes
Live Photography By - Alfie Warnham
Mastered By - Chris McCormack at Blacklisted Mastering
Directed, Edited & Produced By - Paul M Green
DVD Authoring By - Paul M Green

Cameras:
Paul M Green
Alfie Warnham
Chris Higgins
John Cunney
Anthony Graham
Gwyn Hemmings

All Songs Written By - Gary Numan

Buy:
Additional Information
LEGACY. Live at The Olympia, Liverpool. September 16th, 2016
When the Live At The Forum CD and vinyl packages were released in 2016 to celebrate the three classic Numan albums, Replicas, The Pleasure Principle and Telekon, there was one obvious thing missing. A film of the show itself. So, when Gary toured those albums around the UK again last year we fixed that mistake and filmed the Liverpool Olympia show on September 16th.

Gary remembers the show this way: "When it comes to playing in front of a great crowd who are with you on every beat of every song, this show would be right up there with the best. The crowd were amazing, just an incredible atmosphere for the whole night. But, as a band, I gave up counting how many mistakes we made. I think we gave up accuracy for the sheer joy of running around and having fun. It really was fun though.

The DVD also includes a fascinating behind the scenes interview with Gary where he talks about the reasons behind going out and revisiting all these older songs again..