Social Media
Get the lowdown on Gary Numan and follow us, join the Gary Numan community on social media. Join in the fun and have you say.
Amazon
Search for New and Used Gary Numan CDs, Vinyl, DVDs.
Tour Dates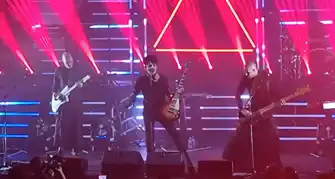 Check out the latest Gary Numan tour dates, events. See one of the founding fathers of synth pop.
Forum
To all Gary Numan fans the Numanme Forum is the forum for you a place for you to be completely Numanized. You can apply for free membership NOW!.
Facebook
This group has been put together for fans of Gary Numan and visitors of the Numanme site, to discuses all things Numan sell/trade share stories and images from all aspects of Numan's career.
Weather Forecast
Podcast
Numanme Radio Podcast will be playing you some of the best Classic Alternative, New Wave, Dark Wave, Synth-Pop, and Punk. Also, a staple diet of Gary Numan/Tubeway Army without question. Shows will be updated here when they become available.
Photo Gallery
These galleries contain Gary Numan related photographs. ranging form the Tubeway Army days to present day. Feel free to browse and if you would like to add any of your own images please get in touch.
Poll
Vote for your favorite Gary Numan album or song.
Numan Quotes +
Intruder LP
Title:

Intruder LP

Suggested Video

Artist:

Gary Numan

Tracklist:

A1. Betrayed
A2. The Gift
A3. I Am Screaming
A4. Intruder
B1. Is This World Not Enough
B2. A Black Sun
B3. The Chosen
C1. And It Breaks Me Again
C2. Saints And Liars
C3. Now And Forever
D1. The End Of Dragons
D2. When You Fall
D3. The End Of Dragons (Alt)

How old:

This LP is old!

Release Date:

May 21st 2021

Format:

LP

Record Label:

BMG Rights Management

Catalogue No:

538658711

Price Guide:

£30.00

Country:

United Kingdom

Additional info:

Relesed in Black/Gold/Silver and Red Double Vinyl.

Highest Chart Position:

2

Credits:

Gary Numan - Vocals, Keyboards
Ade Fenton - Keyboards, Programming
Tim Slade - Bass
Gorkem Sen - Yaybahar
Raven Numan - Vocals
Persia Numan - Vocals
Gazelle Twin - Vocals

Produced by - Ade Fenton
Mixed by - Nathan Boddy except below;
The Chosen and Saints And Liars by Matt Wiggins
The End Of Dragons by Iggy B
Mastered by - Matt Colton at Metropolis Studios, London
Photography by - Chris Corner (IAMX)
Stylist & Make-Up - Gemma Numan .

Buy:
Additional Information
'Intruder' is Numan's 18th solo studio album and follows 2017's 'Savage: Songs From A Broken World', which became his highest charting set in almost forty years when it debuted at 2 on the Official Albums Chart. That commercial success was complemented with wide-reaching critical acclaim from Mojo, The Quietus, PopMatters and more.

Whereas 'Savage' depicted earth as a barren wasteland in which humanity and culture had been largely crushed by the effects of global warming, 'Intruder' presents a fresh but complementary narrative. It's a philosophical examination of a potential future apocalypse: the planet can only survive by purging its inhabitants.

'Intruder' was recorded between sessions at Numan's home studio in Los Angeles and at producer Ade Fenton's studio in Bath. It represents their fifth studio album together after 'Jagged' (2006), 'Dead Sun Rising' (2011), 'Splinter (Songs From A Broken Mind)' (2013) and 'Savage (Songs From A Broken World)' (2017)..