Social Media
Get the lowdown on Gary Numan and follow us, join the Gary Numan community on social media. Join in the fun and have you say.
Amazon
Search for New and Used Gary Numan CDs, Vinyl, DVDs.
Tour Dates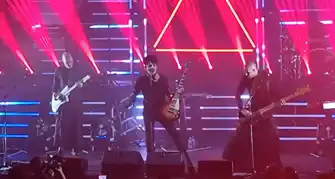 Check out the latest Gary Numan tour dates, events. See one of the founding fathers of synth pop.
Forum
To all Gary Numan fans the Numanme Forum is the forum for you a place for you to be completely Numanized. You can apply for free membership NOW!.
Facebook
This group has been put together for fans of Gary Numan and visitors of the Numanme site, to discuses all things Numan sell/trade share stories and images from all aspects of Numan's career.
Weather Forecast
Podcast
Numanme Radio Podcast will be playing you some of the best Classic Alternative, New Wave, Dark Wave, Synth-Pop, and Punk. Also, a staple diet of Gary Numan/Tubeway Army without question. Shows will be updated here when they become available.
Photo Gallery
These galleries contain Gary Numan related photographs. ranging form the Tubeway Army days to present day. Feel free to browse and if you would like to add any of your own images please get in touch.
Poll
Vote for your favorite Gary Numan album or song.
Numan Quotes +
I Leava You CD-R
Title:

I Leava You

Suggested Video

Artist:

Various Artists

Tracklist:

01. This Wreckage
02. The Aircrash Bureau
03. Telekon
04. Remind Me To Smile
05. Sleep By Windows
06. I'm An Agent
07. I Dream Of Wires
08. Remember I Was Vapour
09. Please Push No More
10. The Joy Circuit
11. A Game Called Echo
12. We Are Glass
13. I Die : You Die
14. Down In The Park
15. Trois Gymnopedies
16. Photograph

How old:

This CD-R is old!

Release Date:

August 1st 2011

Format:

CD-R

Record Label:

Mortal Records

Catalogue No:

N/A

Price Guide:

£0.00

Country:

United Kingdom

Additional info:

Free distribution. Fan based creation by Ben in Chicago, An excellent Numan tribute compilation. Ben handed this out by email request only.

Highest Chart Position:

N/A

Credits:

All songs written by Gary Numan

01. FabRik
02. Core
03. I Replicant
04. Young Things Don't Scream
05. Liquidscreamer
06. Synthsound
07. Tim Eilers
08. Brainclaw
09. Gary Hunter
10. Sensien
11. Audio Terrorist
12. Richard James
13. Oval project
14. Terre Thaemlitz
15. Jagged Halo
16. BlurredMan

Buy:
Additional Information
Gary Numan's Telekon was written and recorded at the height of his popularity and success. He was riding the crest of a wave of creativity that had been stored up in him for a lifetime. He was bodily infused with a vision of a musical style that would later be copied and adapted by other artists and given the name New Romantic. Given the license afforded him by what he came to disdainfully call The Success, Gary was able to stretch his music to the limit of his imagination, creating his most complex, most elaborate, most fully realized album of his career. The compositions are rich, the concepts are high flung, the emotions suffuse the listener right out to the skin. Telekon is Gary at the zenith of The Machine, the pinnacle of the sound for which he has become known.

In short, Telekon is the greatest album in the history of recorded music.

Perhaps for that reason, it has presented a challenge to his fans who have attempted to record their own cover versions of his songs. While Gary's previous two albums offered individual songs straightforward in their structure that have been readily accessible for multitudes of adaptations, Telekon has proven to be the ultimate prize for the musos of Gary's following—daunting yet ever beckoning. To honor its vaunted stature, Gary's fans have recorded their own versions of every last track from the Telekon phenomenon, gathered here together for the first time representing the album in its entirety in tribute form, an overdue recognition of the importance of Telekon as its own unique contribution to the evolving language of music. The wealth of cover versions fans have recorded of Gary Numan's songs stand testament to his influence as an artist. Now this set, I Leave You, pays tribute to the significance of Telekon as art.

Gary opened the album, and the tours in support of it, with the downbeat and dirgelike "This Wreckage," its introductory synth moans heralding a warning of the emotional wreckages to come. Instead of the up-tempo and hooky "Remind Me To Smile" or "I'm An Agent," Gary chose this song to release as a single, perhaps deliberately assuring only limited chart life—an unconscious attempt to sabotage the pop stardom he was finding he didn't want. Fabrik's Rick Porter retains the prefacing unwelcome mat the original lays out to the album and then makes the song his own. Where the original stumbles like a drunk on a bender, Fabrik's take gallops forward with determination. Instead of the wailing and crying of Gary's performance, we hear Fabrik wailing and crooning it into an actual song. This is the single "This Wreckage" might have been. Fabrik ends it with a coda that harkens to another, earlier song in Gary's oeuvre, alluding to how Telekon would represent the end of all that Gary had done up to that point.

"The Aircrash Bureau" embodies the moral ambiguity that permeates Gary's entire lyrical output. It tells the story of a ghostly Flying Dutchman of a fighter pilot who appears to warn others of when their aircraft are facing imminent danger—acting with compassion and mercy toward people who are themselves intent upon putting others in their graves. The fan site AFEnet invited its members to submit entries for its own "Telekon 25" celebration and this take by Core brings the synths to the fore with all the bombast of military brass, as if to underscore the martial nature of the subject of the song and the charges he serves.

The album's title track takes the listener into a morass of paranoia in which humanity is menaced by the technology that has hemmed them in, and yet the focus of their distrust is on each other—a horror twist worthy of a George A. Romero film. Taken from the "Carbon Copy" series of Gary Numan fan tributes, this rendition by IReplicant brings a mournful quality to the song. The descending intonation of lines like "Do you begin to see that I don't know?" turns it from a defensive self-justification into a saddened lamentation, suggesting the singer is aware of what humanity did know at some point but now has lost. "You end on reel one," the mechanical voice announces, as if it's humanity itself that is ending on reel one; reel two will belong entirely to the machines.

The Gary Numan tribute band, Young Things Don't Scream, for their performance of their flagship song, "Remind Me To Smile," have stripped away all the self-doubt and uncertainty suggested in the lyrics and given themselves over to the exuberance and urgency of the rock and roll lifestyle. Lifted from their album, 'Numan Days,' their take here provides a welcome relief from the heaviness of Telekon. They've taken the injunction literally; with their breezy and energetic playing, we are indeed reminded.

Gary wrote "Sleep By Windows" as a warning to the obsessive fans encroaching on his private life, but Liquidscreamer have turned the song right back on him. In this magnificent, lush and hypnotic rendering, their singer is the voice of the hundreds of fans who have drifted like gas through his bed, flinging the line "I don't love you" back in his face to make clear their sex was using him just as much as he was using them—transforming Gary into the very gigolo he would become on his next album. "Do you dream?" she purringly whispers toward the end, to convey she already knows he will dream, and often, of her.

"I'm An Agent" offers up a cascade of flow-of-consciousness word imagery which can lose the listener in its loose threads. Synthsound1 gets around this labyrinth by sidestepping the vocals and adapting the song into an imaginative and experimental instrumental exploration. Here the music is the voice, and laid bare as they are the synth lines are revealed to be as anthemic as any composition Gary has laid down—with or without vocal accompaniment. This is taken from Synthsound1's double-album of Gary covers and Gary-inspired originals, a fittingly dreamlike interpretation of a song that itself began in a dream.

We segue seamlessly into Tim Eilers' rendition of "I Dream Of Wires," from his forthcoming album of Gary covers. This is Gary Numan nostalgically pining for an earlier age of simpler technology, and the irony could not be thicker for how Gary has relentlessly kept himself pushing the leading edge of music technology. Critics have misunderstood Gary's music as unemotional, cold and robotic, but fans have recognized from the first that his songs have always carried a heavy emotional throughline—that is, the struggle and anguish of Gary as the everyman being dehumanized by the creeping technologization of modern life. While Gary Numan the musician has always embraced every technological advance in musical composition and recording, Gary Numan the lyricist has warned of our loss of humanity as the machines take over our world and our lives. Decades on from Telekon's release, we are in an age where most of our "friends" exist for us only as pixels on a computer screen and most of our interaction with other people is entirely virtual. Our friends are truly electric, and Gary's lyrics seem more prescient than ever.

Gary most strenuously asserted his embattled humanity on "Remember I Was Vapour," reminding his misunderstanding critics and his idolizing fans of his human frailties and vulnerabilities they have forgotten. Brainclaw adapt the song with some heightened groove, humanizing the music itself. The singer conveys the lines with an assured confidence, but he is belied by the saddened whale songs and rolls of thunder gathered over the end of the song—as if he were singing to calm his nerves while standing atop a cliff staring into a storm-ravaged nighttime sea.

"Please Push No More" was Gary's admission to himself that the circus he was performing had to come to an end—before it ended him. Gary Hunter has stripped the song down to its essence—the piano and voice—and the hollow echo of his recording studio draws in stark relief the isolation of the lone musician. Now he truly is behind glass, and the spartan arrangement lays bare the emotion of the song in all its rawness.

If "Please Push No More" was Gary saying goodbye to his fans and to performing, "The Joy Circuit" was him saying goodbye to the music itself. This was the song that would cap The Machine era of Gary's career, the absolute peak of his new romantic sound. Sensien's performance gets behind it and propels it all the way to the mountaintop. The final movement of the song, conveyed entirely without vocals but through instrumentation only, was Gary making the synthesizers convey all the joy and all the sadness, all the grandeur and all the beauty of everything he wanted to achieve with music. It is the emotional climax of the album, and traveling its pinnacle heights we can hear how this epoch must come to an end.

Upon its initial vinyl release, Telekon was an incomplete statement of itself. Prior to its issue Gary had put out two singles that are among the very best of his career—which he then kept off the album itself. Consciously the intention was to leave room for more new material for the fans, but unconsciously he was again sabotaging his album's chart life—and his career. His US distributor made a partial corrective by including one of the singles on American pressings of the album, a tacit admission that their exclusion had been a mistake. This set would not truly be paying tribute to Telekon then without portraying the full spectrum of sound Gary had created for his watershed project. "A Game Called Echo" serves as the perfect bridge taking us out of the album proper into the extended play of the set. Initially it was planned as a track to be included on the album itself, but in the end did not even appear as a single b-side. The austere piano roll of the song's intro picks us up again from "The Joy Circuit's" cataclysmic collapse. Audio Terrorist's programmed rhythm carries us through the song as if on a factory's rivet-drilling conveyor belt, blending both the mechanization and the sorrow that are the hallmarks of Telekon's sound.

The first single Gary released in advance of Telekon, the frenetically driven "We Are Glass," gets right up to the edge of a dance rhythm but holds back in a self-contradictory bind of musical tension. Richard James unties one end of the "We Are Glass" knot, letting it slip into the full-on techno arrangement it was teetering on the brink of—even letting out his own sighs of relief at the song's opening, relaxing into the propulsive arrangement this song was meant to have all along.

Gary Numan is best known for three songs—none of which are the one his fans consider to be his absolute best composition. Among those in the know, one song has been recognized in poll after poll as Gary's greatest—the almighty "I Die: You Die." It has been covered numerous times, but the Oval Project's James Takacs has truly recorded it as a labor of love. He has slowed it down by one tick of the metronome, to hold each note just slightly longer and give it its own individual emphasis. His vocal performance rises to convey each word with its own strength and meaning. In the end, if this does not do justice to Gary's greatest triumph, perhaps it can't be done—a final testament to the supremely unique artistry of Gary Numan.

As the b-side to the single that would become the favorite of his fans, Gary chose to revisit the song which he has consistently said is his own favorite of his compositions, "Down In The Park," rendered as an unaccompanied piano translation. Noted piano maestro Terre Thaemlitz has recorded a full album of Gary's songs adapted to acoustic piano arrangement, from which this retelling of "Down In The Park" is lifted—not simply transposed by instrument, but reimagined with varied cadence and structure, the very notes both an elaboration and a reflection of the original. To any numanoid with the ears to hear it, 'Replicas Rubato' is a love letter, expressing musically the adoration the rest of Gary's fans have felt but could not convey.

From a classical rendition of a new romantic standard, we turn to a classical standard performed in new romantic style. Gary's keyboard lines for Telekon reveal a clear influence from composer Erik Satie, and for the b-side to "We Are Glass" Gary recorded his own take of Satie's most famous composition, the first movement to "Trois Gymnopedies." Paying tribute to Gary's tribute, Jagged Halo recorded this as part of the full Gary tribute album 'Replicas,' which flawlessly blends Gary's current industrial sound with the classic new romantic, even more successfully than Gary himself has on some of his recent career-spanning live albums. Jagged Halo combines gothic atmospherics with electronic instrumentation to fully embrace the darkwave aesthetic.

Finally, we close out with "Photograph" the only true b-side of new original material from the Telekon era. We have bookended the set with the b-side to the album-opening single. "Photograph's" limpid cadence is more faithful to Satie's style than the prettified Satie cover. BlurredMan's Andrew Westwood has gently smoothed out the composition, to let it fall more easily on the listener. This is the album's epilogue, to assure that while the Machine era may have come to an end, Gary's machine music will rumble onward. As if to underscore the point, the final note is held on as long as the ear will allow without breaking from the song structure—as if Westwood were reluctant for the music to end. We know exactly how he feels.

There is one more artist for this set who must be mentioned. Gary has always carefully crafted a visual style to accompany each album, and for none was that more dramatically realized than on Telekon. The original cover image held Gary's face in abstraction with an infant-like gaze as if seeing for the first time this new world of the new romantic he was creating. I Leave You is graced with an image from visual artist Whitney Brunes just as idealized, just as romanticized and abstracted, with a more determined expression—visually communicating how the creation, now not so newly born, can be credited for the power and permanency it holds.

Telekon has stood astride Gary Numan's musical career. It will always be the gold standard, the one by which all his other albums will be measured. By rights it ought to be the one by which all albums are measured, by any artist. Now that Gary has shown what can be done with music, we have to ask of every album that is not Telekon, "Why was this necessary?"

Together with Replicas and The Pleasure Principle, these are the three albums—the trinity—that each went to number one on the charts, the three albums Gary has performed in their entirety on classic album tours. Those tours are Gary acknowledging that these albums are worthy of recognition as more than just a set of individual songs, but as an artistic statement.

Now with this tribute set, I Leave You, together with the other two covering the trinity—Replication and Empire Of Light—the fans have answered that declaration with their own. Songs from across his career have been covered individually but only these three albums have been canvassed to the last—an admission that this troika are exceptional. There are albums dotted through music's history that are generally agreed on as being pivot points in sonic evolution. I Leave You declares that the genre-defining Telekon belongs among them. With his live albums released from the classic tours, Gary Numan has documented the longevity of the original albums. Now the fans have done the same.

The old tape will never fail.

Benjamin Iglar-Mobley, 2011.