Social Media
Get the lowdown on Gary Numan and follow us, join the Gary Numan community on social media. Join in the fun and have you say.
Amazon
Search for New and Used Gary Numan CDs, Vinyl, DVDs.
Tour Dates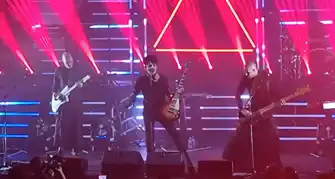 Check out the latest Gary Numan tour dates, events. See one of the founding fathers of synth pop.
Forum
To all Gary Numan fans the Numanme Forum is the forum for you a place for you to be completely Numanized. You can apply for free membership NOW!.
Facebook
This group has been put together for fans of Gary Numan and visitors of the Numanme site, to discuses all things Numan sell/trade share stories and images from all aspects of Numan's career.
Weather Forecast
Podcast
Numanme Radio Podcast will be playing you some of the best Classic Alternative, New Wave, Dark Wave, Synth-Pop, and Punk. Also, a staple diet of Gary Numan/Tubeway Army without question. Shows will be updated here when they become available.
Photo Gallery
These galleries contain Gary Numan related photographs. ranging form the Tubeway Army days to present day. Feel free to browse and if you would like to add any of your own images please get in touch.
Poll
Vote for your favorite Gary Numan album or song.
Numan Quotes +
I,Assassin LP
Title:

I, Assassin

Suggested Video

Artist:

Gary Numan

Tracklist:

A1. White Boys And Heroes
A2. War Songs
A3. A Dream Of Siam
A4. Music For Chameleons
B1. This Is My House
B2. I, Assassin
B3. The 1930's Rust
B4. We Take Mystery (To Bed)

How old:

This LP is old!

Release Date:

March 1st 2019

Format:

LP

Record Label:

Beggars Banquet

Catalogue No:

BBQLP 40

Price Guide:

£15.00

Country:

United Kingdom

Additional info:

Restored from the original analogue tapes, presented on HD audio Dark green vinyl

Highest Chart Position:

Deleted

Credits:

Gary Numan (Vocals, Keyboards, Guitar)
Roger Mason (Keyboards)
Pino Palladino (Fretless Bass)
Chris Slade (Drums, Percussion)
John Webb (Percussion)
Mike (Saxophone, Harmonica)

Produced by Gary Numan

Engineered by Nick Smith
Assisted by Sean Lynch

Recorded at Rock City Studios, Shepperton

Buy:
Additional Information
LP reissue release date: March 1st, 2019

• Restored from the original analogue tapes, presented on HD audio
• Dark green vinyl

Combining fretless bass with heavy rock drumming, Numan further refined his dark, sparse, funky-electro style, mixing it with impenetrable, slurred vocals.

Numan recorded and wrote most of the music between January and March 1982, following his infamous round-the-world trip in a light aircraft and a near-death crash onto a British road while co-piloting a spiraling Cessna.

According to Numan, who was still only 24-years-old at the time, "the round-the-world flight, the plane crash, these were big things that helped me shape a new opinion of myself. Those experiences gave me a self-confidence, a genuine strength that I hadn't had before." Twenty years later, the singer enthused, "I still think it's one of the best albums I've made." I, Assassin's heavily percussive approach led to several tracks becoming unexpected intruders on American dancefloors, notably the 12" single of "Music For Chameleons" and a specially remixed U.S. version of "White Boys And Heroes.

I, Assassin stands out as a record fiercely propelled by powerful rhythms in songs laced with an earthy cynicism.

"I, Assassin also utilizes the warped elasticity of fretless bass lines underneath his customary monotone vocalizing and abstract lyricism. Highlighted by the upbeat synthetic funk of "We Take Mystery To Bed" & "White Boys", I, Assassin is an in-depth examination of genuine dance music roots." - URB Magazine.