Social Media
Get the lowdown on Gary Numan and follow us, join the Gary Numan community on social media. Join in the fun and have you say.
Amazon
Search for New and Used Gary Numan CDs, Vinyl, DVDs.
Tour Dates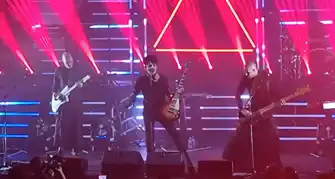 Check out the latest Gary Numan tour dates, events. See one of the founding fathers of synth pop.
Forum
To all Gary Numan fans the Numanme Forum is the forum for you a place for you to be completely Numanized. You can apply for free membership NOW!.
Facebook
This group has been put together for fans of Gary Numan and visitors of the Numanme site, to discuses all things Numan sell/trade share stories and images from all aspects of Numan's career.
Weather Forecast
Podcast
Numanme Radio Podcast will be playing you some of the best Classic Alternative, New Wave, Dark Wave, Synth-Pop, and Punk. Also, a staple diet of Gary Numan/Tubeway Army without question. Shows will be updated here when they become available.
Photo Gallery
These galleries contain Gary Numan related photographs. ranging form the Tubeway Army days to present day. Feel free to browse and if you would like to add any of your own images please get in touch.
Poll
Vote for your favorite Gary Numan album or song.
Numan Quotes +
Hybrid ( Red Vinyl) LP
Title:

Hybrid

Suggested Video

Artist:

Gary Numan

Tracklist:

A1. Hybrid
A2. Dark
A3. Crazier
A4. Bleed
B1. Torn
B2. Down In The Park
B3. Everyday I Die
B4. Absolution
C1. Ancients
C2. Dominion Day
C3. A Prayer For The Unborn
C4. Listen To My Voice
D1. Rip
D2. Are 'Friends' Electric?
D3. M.E.
D4. Cars

How old:

This 2xLP is old!

Release Date:

January 19th 2020

Format:

LP

Record Label:

Demon Records

Catalogue No:

Demrec731

Price Guide:

£25.00

Country:

United Kingdom

Additional info:

Released in a deluxe gatefold cover with printed inner sleeves 140 gram.

Highest Chart Position:

N/A

Credits:

Design, Layout – Paul Agar
Executive-Producer – Steve Malins
Mastered By – Adam Nunn
Public Relations – Danielle Chambers, Savanna Electra Sparkes*, Steve Malins
Written-By – Gary Numan.

Buy:
Additional Information
Hybrid is a 2003 collection of reinvented classics by influential synth pop innovator Gary Numan. Numan collaborated with numerous producers such as flood, curve, Andy Gray, Alan Moulder, Rico and Sulphur, to completely rework some of his best known songs from the '70s, '80s and '90s. Highlights includes the track 'crazier' Which became numan's first UK Top 20 hits since 1996 and new wave classics 'cars', 'are 'friends' Electric?' and 'down in the Park which are reworked with industrial, techno and dark wave inspired sounds. Demon Records is proud present the first vinyl reissue of the album, pressed on two 140g Red vinyl and housed in a deluxe gatefold sleeve with printed inner sleeves.