Social Media
Get the lowdown on Gary Numan and follow us, join the Gary Numan community on social media. Join in the fun and have you say.
Amazon
Search for New and Used Gary Numan CDs, Vinyl, DVDs.
Tour Dates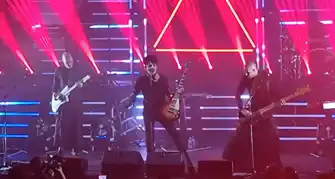 Check out the latest Gary Numan tour dates, events. See one of the founding fathers of synth pop.
Forum
To all Gary Numan fans the Numanme Forum is the forum for you a place for you to be completely Numanized. You can apply for free membership NOW!.
Facebook
This group has been put together for fans of Gary Numan and visitors of the Numanme site, to discuses all things Numan sell/trade share stories and images from all aspects of Numan's career.
Weather Forecast
Podcast
Numanme Radio Podcast will be playing you some of the best Classic Alternative, New Wave, Dark Wave, Synth-Pop, and Punk. Also, a staple diet of Gary Numan/Tubeway Army without question. Shows will be updated here when they become available.
Photo Gallery
These galleries contain Gary Numan related photographs. ranging form the Tubeway Army days to present day. Feel free to browse and if you would like to add any of your own images please get in touch.
Poll
Vote for your favorite Gary Numan album or song.
Numan Quotes +
Here In The Black live at Hollywood forever cemetery CD/DVD
Title:

Here In The Black live at Hollywood forever cemetery

Suggested Video

Artist:

Gary Numan

Tracklist:

CD 1

01. I Am Dust
02. Metal
03. Everything Comes Down To This
04. The Fall
05. Here In The Black
06. Films
07 .The Calling
08. Down In The Park
09. Splinter
10. Dead Sun Rising

CD 2

01. A Shadow Falls On Me
02. Lost
03. When The Sky Bleeds
04. We're The Unforgiven
05. Love Hurt Bleed
06. A Prayer For The Unborn
07. Cars
08. I Die You Die
09. Are Friends Electric
10. My Last Day

DVD

01. Cars
02. Everything Comes Down To This
03. Here In The Black
04. I Am Dust
05. Lost
06. Love Hurt Bleed
07. Splinter
08. The Calling
09. Were The Unforgiven

How old:

This CDs and DVD is old!

Release Date:

January 18th 2016

Format:

CDs/DVD

Record Label:

Machine Music

Catalogue No:

MM-DVDCD2-1601

Price Guide:

£29.00

Country:

United Kingdom

Additional info:

Here In The Black - An exclusive 2 disc DVD/CD. Plus 32 minute mini documentary with music clips, filmed live at Hollywood Forever Cemetery Los Angeles.

Highest Chart Position:

N/A

Credits:

Gary Numan (Vocals, Guitar & Keyboards)
Steve Harris (Guitar)
Tim Muddiman (Bass)
Ade Fenton (Keyboards)
Frank Zummo (Drums)

Buy:
Additional Information
Here In The Black is an Exclusive 3 Disc Set containing 2 CDs and a DVD as a combined package recorded and filmed over two shows Gary played at the legendary Hollywood Forever Cemetery in Los Angeles in 2013 as part of the Splinter World Tour.

All twenty songs performed at the shows feature over both CDs with the DVD featuring a 32 minute mini documentary, with music clips filmed around the two shows Gary performed alongside performances of nine full songs, mostly from the Splinter album, played live at these shows.