Social Media
Get the lowdown on Gary Numan and follow us, join the Gary Numan community on social media. Join in the fun and have you say.
Amazon
Search for New and Used Gary Numan CDs, Vinyl, DVDs.
Tour Dates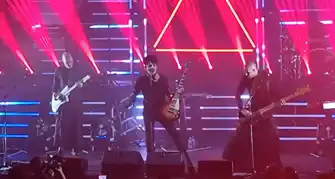 Check out the latest Gary Numan tour dates, events. See one of the founding fathers of synth pop.
Forum
To all Gary Numan fans the Numanme Forum is the forum for you a place for you to be completely Numanized. You can apply for free membership NOW!.
Facebook
This group has been put together for fans of Gary Numan and visitors of the Numanme site, to discuses all things Numan sell/trade share stories and images from all aspects of Numan's career.
Weather Forecast
Podcast
Numanme Radio Podcast will be playing you some of the best Classic Alternative, New Wave, Dark Wave, Synth-Pop, and Punk. Also, a staple diet of Gary Numan/Tubeway Army without question. Shows will be updated here when they become available.
Photo Gallery
These galleries contain Gary Numan related photographs. ranging form the Tubeway Army days to present day. Feel free to browse and if you would like to add any of your own images please get in touch.
Poll
Vote for your favorite Gary Numan album or song.
Numan Quotes +
27: Gone Too Soon Documentary DVD
Title:

27: Gone Too Soon Documentary

Directed by:

Simon Napier-Bell

Tracklist:

Scene Selection
Scene 1
Scene 2
Scene 3
Scene 4
Scene 5
Scene 6
Scene 7
Scene 8
Scene 9
Scene 10
Scene 11
Scene 12

How old:

This DVD is old!

Release Date:

March 26th 2018

Format:

DVD

Record Label:

Bulldog Film Distribution Limited

Catalogue No:

BFD041

Price Guide:

£10.00

Country:

United Kingdom

Additional info:

This film investigates the lives, music, and artistry of the so-called '27 Club' 1 hour, 10 minutes.

Highest Chart Position:

N/A

Credits:

Produced by
Duncan Napier-Bell ... producer
Nicholas Napier-Bell ... producer
David Rogers ... executive producer
Marcus Searancke ... executive producer
Alena Walker ... executive producer

Music by
Simon Napier-Bell

Cinematography by
Pietro Occhiuzzi

Film Editing by
J.P. Davidson
Joshua Marmaduke Hughes

Sound Department
Max Hardy ... re-recording mixer

Editorial Department
Jordan Patrick Chang ... assistant editor
J.P. Davidson ... colorist

Other crew
Jordan Patrick Chang ... Production Coordinator
Claire Gerrard ... marketing executive
Alex Martin ... consultant
Suria O'Connor ... marketing assistant
David Peck ... consultant
Joe Rayner ... accounts.

Buy:
Additional Information
An examination of the lives and deaths of the six most famous members of the '27 Club' - musicians who have died aged 27: Brian Jones, Jimi Hendrix, Janis Joplin, Jim Morrison, Kurt Cobain and Amy Winehouse.