Social Media
Get the lowdown on Gary Numan and follow us, join the Gary Numan community on social media. Join in the fun and have you say.
Amazon
Search for New and Used Gary Numan CDs, Vinyl, DVDs.
Tour Dates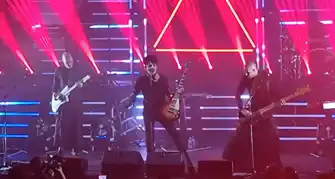 Check out the latest Gary Numan tour dates, events. See one of the founding fathers of synth pop.
Forum
To all Gary Numan fans the Numanme Forum is the forum for you a place for you to be completely Numanized. You can apply for free membership NOW!.
Facebook
This group has been put together for fans of Gary Numan and visitors of the Numanme site, to discuses all things Numan sell/trade share stories and images from all aspects of Numan's career.
Weather Forecast
Podcast
Numanme Radio Podcast will be playing you some of the best Classic Alternative, New Wave, Dark Wave, Synth-Pop, and Punk. Also, a staple diet of Gary Numan/Tubeway Army without question. Shows will be updated here when they become available.
Photo Gallery
These galleries contain Gary Numan related photographs. ranging form the Tubeway Army days to present day. Feel free to browse and if you would like to add any of your own images please get in touch.
Poll
Vote for your favorite Gary Numan album or song.
Numan Quotes +
Gloss Drop CD
Title:

Gloss Drop

Suggested Video

Artist:

Battles

Tracklist:

01. Africastle
02. Ice Cream
03. Futura
04. Inchworm
05. Wall Street
06. My Machines (Featuring Gary Numan)
07. Dominican Fade
08. Sweetie & Shag
09. Toddler
10. Rolls Bayce
11. White Electric
12. Sundome

How old:

This CD is old!

Release Date:

June 7th 2011

Format:

CD

Record Label:

Warp-Records

Catalogue No:

WARPCD212

Price Guide:

£8.99

Country:

United Kingdom

Additional info:

Issued in a gatefold card sleeve with a poster inside.

Highest Chart Position:

N/A

Credits:

Art Direction, Design – Dave Konopka
Mastered By – Ryan Smith (2)
Photography By – Lesley Unruh
Producer – Battles, Keith Souza, Seth Manchester
Recorded By, Mixed By – Keith Souza, Seth Manchester
Written-By, Performer – Battles, Gary Numan (tracks: 6), Kazu Makino (tracks: 8), Matias Aguayo (tracks: 2), Yamantaka Eye* (tracks: 12)

Buy:
Additional Information
The beloved debut from post-rock all-star rockers Battles is nearly four years old, yet "Atlas" still sounds as revolutionary as ever. Still, it is about time for a follow-up. Actually, it is past time. The sophomore album has been expected for the last two years, with the departure of core member Tyondai Braxton certainly not helping the time-table. Well, we now have a date and it is June 7th.

Gloss Drop will feature a shit-load of special guests to help sing, including Gary Numan, Boredoms' Yamantaka Eye, Blonde Redhead's Kazu Makino, and Matias Aguayo. The album will be released on Warp records and we have the track list below. Also, the band will be touring, with at least one date (May 2nd in L.A.) already announced..