Social Media
Get the lowdown on Gary Numan and follow us, join the Gary Numan community on social media. Join in the fun and have you say.
Amazon
Search for New and Used Gary Numan CDs, Vinyl, DVDs.
Tour Dates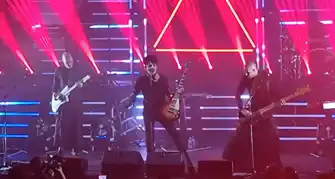 Check out the latest Gary Numan tour dates, events. See one of the founding fathers of synth pop.
Forum
To all Gary Numan fans the Numanme Forum is the forum for you a place for you to be completely Numanized. You can apply for free membership NOW!.
Facebook
This group has been put together for fans of Gary Numan and visitors of the Numanme site, to discuses all things Numan sell/trade share stories and images from all aspects of Numan's career.
Weather Forecast
Podcast
Numanme Radio Podcast will be playing you some of the best Classic Alternative, New Wave, Dark Wave, Synth-Pop, and Punk. Also, a staple diet of Gary Numan/Tubeway Army without question. Shows will be updated here when they become available.
Photo Gallery
These galleries contain Gary Numan related photographs. ranging form the Tubeway Army days to present day. Feel free to browse and if you would like to add any of your own images please get in touch.
Poll
Vote for your favorite Gary Numan album or song.
Numan Quotes +
Gary Numan Now.... and then
Title:

Gary Numan Now.... and then

Artist:

Gary Numan

Tracklist:

01. Chapter 1
02. Chapter 2
03. Chapter 3
04. Chapter 4
05. Chapter 5
06. Chapter 6
07. Chapter 7
08. Chapter 8
09. Chapter 9
10. Chapter 10
11. Chapter 11

How old:

This App is old!

Release Date:

December 10th 2012

Format:

App

Record Label:

Artrocker book

Catalogue No:

N/A

Price Guide:

£5.49

Country:

United Kingdom

Additional info:

The app Artrocker book 'GARY NUMAN: NOW...and then' –– an official retrospective of an electro legend, with FREE Remix Album is to be released December 10th.

Highest Chart Position:

N/A

Credits:

Tom 'Artrocker' Fawcett
Designed and Produced by Richard Lucas
Photography: Keith Martin
Additional photography: Jack Fawcett, Ed Fielding, Sarsh Lucas, Heather Platt, Stephen Roper, Gavin Watson.
Interview video: Jack Fawcett
Additional video: Will Hutchinson, Heather Platt
Created by Richard Lucas and Artrocker Magazine with the full support and co-operation of Gary Numan

Buy:
Additional Information
Gary Numan Now.... and then
Includes 'DEAD MOON FALLING', a full reworking of Gary Numan's critically acclaimed 'DEAD SON RISING' album, featuring remixes by some of the world's most cutting-edge artists.
(PLEASE NOTE: THE ALBUM WILL NOT DOWNLOAD DIRECT TO YOUR iPAD. YOU NEED TO DOWNLOAD TO A LAPTOP OR DESKTOP COMPUTER AND THEN SYNC YOUR iTUNES)

It's been an amazing couple of years for Gary Numan, returning to form as a recording artist and back in the public gaze as one of the revered greats of Pop. Artrocker editor-in-chief Tom Artrocker has conducted a series of interviews with Gary spanning April to September 2012, discussing the past, present and future of the King of Synth. No stone is left unturned. Tom also spoke to co-producer Ade Fenton, members of Gary's present band as well as former alumni, Gary's merch man of many years.
For this App Artrocker commissioned photographer, and former male super-model Keith Martin to take a series of new photos of Gary, his crew and fans. The result is nearly 200 brand new, never seen before photos.
Embedded in the app are a dozen interview videos, on subjects as diverse as 'Cars' and moving to the USA.
Buyers are given access to an EXCLUSIVE DOWNLOAD ALBUM; Gary's last album Dead Son Rising remixed in it's entirety.
Gary talks about his recent return to prominence, moving to America, writing, recording, producing and performing, future plans, the next album... even the make of car he'll be driving around LA.
Gary discusses how it all began, the first fateful meeting with a synthesiser, riding the instant rocket to fame, the come down, the lost years and the fight back. We have nearly 100 flyers, programmes, back stage passes, photos from the period and vintage magazine covers.
This is an App that will appeal to Numanoids, synth-poppers and music fans of all ages. All Hail King Gary. All Hail Artrocker..