Social Media
Get the lowdown on Gary Numan and follow us, join the Gary Numan community on social media. Join in the fun and have you say.
Amazon
Search for New and Used Gary Numan CDs, Vinyl, DVDs.
Tour Dates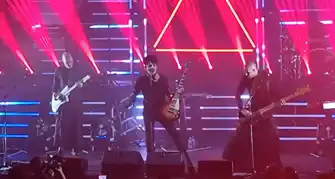 Check out the latest Gary Numan tour dates, events. See one of the founding fathers of synth pop.
Forum
To all Gary Numan fans the Numanme Forum is the forum for you a place for you to be completely Numanized. You can apply for free membership NOW!.
Facebook
This group has been put together for fans of Gary Numan and visitors of the Numanme site, to discuses all things Numan sell/trade share stories and images from all aspects of Numan's career.
Weather Forecast
Podcast
Numanme Radio Podcast will be playing you some of the best Classic Alternative, New Wave, Dark Wave, Synth-Pop, and Punk. Also, a staple diet of Gary Numan/Tubeway Army without question. Shows will be updated here when they become available.
Photo Gallery
These galleries contain Gary Numan related photographs. ranging form the Tubeway Army days to present day. Feel free to browse and if you would like to add any of your own images please get in touch.
Poll
Vote for your favorite Gary Numan album or song.
Numan Quotes +
Gary Numan Android In La La Land DVD
Title:

Gary Numan Android In La La Land DVD

Directed by:

Steve Read, Rob Alexander (co-director)

Tracklist:

Region Two UK Special Edition DVD of the documentary - Available in UK/IRELAND ONLY - INTERNATIONAL VERSIONS COMING SOON.
Featuring 17 minutes of deleted / bonus scenes
Double gatefold packaging
DVD presented with 8 page colour booklet
Bonus scenes including:
Tea & Biscuits & "Here in the Black"
Gemma's Thoughts on Gravity
The secrets of the Garage
7 minutes of bonus material with Gary Numan in Studio
(only available on Special Edition)

How old:

This DVD is old!

Release Date:

August 26th 2016

Format:

DVD

Record Label:

N/A

Catalogue No:

N/A

Price Guide:

£23.00

Country:

United Kingdom

Additional info:

UK Region Two.

Highest Chart Position:

N/A

Credits:

Directed by
Steve Read
Rob Alexander ... (co-director)

Produced by
Rob Alexander ... producer
Mike Connolly ... executive producer
Ian Davies ... executive producer
Rebecca Long ... executive producer
Nadine Luque ... executive producer
Brad Shenfeld ... executive producer
Caroline Spry ... executive producer
Sylvia Stevens ... executive producerCinematography by
Steve Read Film Editing by
Ollie Huddleston Editorial Department
Paul Koren ... colorist
Matthew Locke ... post production coordinatorMusic Department
Graham Langley ... music supervisorThanks
Sean O'Shea ... thanks

Buy:
Additional Information
At the end of the 1970s, Gary Numan found himself to be one of the world's biggest-selling recording artists, "Are 'Friends' Electric?" and "Cars" were huge hits, no one had heard, or seen, anyone like Gary Numan. The Asperger's syndrome that helped forge Numan's tunnel-like ambition, informing his music and image, also brought problems. At a time when the public knew little about the condition, the press labeled him a freak, one paper suggested his parents should have been doctored for giving birth to him. Depression, anxiety, near bankruptcy and a long period in the wilderness followed. Then Numan fell in love with his biggest fan, Gemma, who helped him rediscover his passion for music.

Gary Numan, the godfather of electronic music is on a one-way trip to crack America, returning to the studio for the first time in nearly a decade. Android in La La Land is a true celebration of a music-making pioneer and the love story that helped him turn his life around.