Social Media
Get the lowdown on Gary Numan and follow us, join the Gary Numan community on social media. Join in the fun and have you say.
Amazon
Search for New and Used Gary Numan CDs, Vinyl, DVDs.
Tour Dates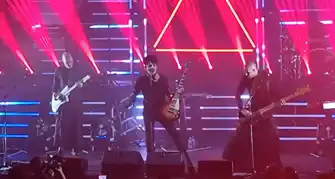 Check out the latest Gary Numan tour dates, events. See one of the founding fathers of synth pop.
Forum
To all Gary Numan fans the Numanme Forum is the forum for you a place for you to be completely Numanized. You can apply for free membership NOW!.
Facebook
This group has been put together for fans of Gary Numan and visitors of the Numanme site, to discuses all things Numan sell/trade share stories and images from all aspects of Numan's career.
Weather Forecast
Podcast
Numanme Radio Podcast will be playing you some of the best Classic Alternative, New Wave, Dark Wave, Synth-Pop, and Punk. Also, a staple diet of Gary Numan/Tubeway Army without question. Shows will be updated here when they become available.
Photo Gallery
These galleries contain Gary Numan related photographs. ranging form the Tubeway Army days to present day. Feel free to browse and if you would like to add any of your own images please get in touch.
Poll
Vote for your favorite Gary Numan album or song.
Numan Quotes +
Gary Numan 5 Album Box Set
Title:

Gary Numan 5 Album Box Set

Suggested Video

Artist:

Gary Numan

Tracklist:

DISC 1 LIVING ORNAMENTS '81 PART ONE

01. Intro / This Wreckage
02. Remind Me To Smile
03. Metal
04. Me, I Disconnect From You
05. Complex
06. The Aircrash Bureau
07. Airlane
08. M.E.
09. Everyday I Die
10. Films
11. Remember I Was Vapour
12. Trois Gymnopedies (First Movement)
13. Conversation

DISC 2 LIVING ORNAMENTS '81 PART TWO

01. She's Got Claws
02. Cars
03. I Dream Of Wires
04. I'm An Agent
05. The Joy Circuit
06. I Die: You Die
07. Cry The Clock Said
08. Tracks
09. Down In The Park
10. My Shadow In Vain
11. Please Push No More
12. Are 'Friends' Electric?
13. We Are Glass / Outro

DISC 3 DANCE

01. Slowcar To China
02. Night Talk
03. A Subway Called 'You'
04. Cry The Clock Said
05. She's Got Claws
06. Crash
07. Boys Like Me
08. Stories
09. My Brother's Time
10. You Are, You Are
11. Moral
BONUS TRACKS
12. Stormtrooper In Drag
13. Face To Face
14. Dance
15. Exhibition
16. I Sing Rain

DISC 4 I, ASSASSIN

01. White Boys And Heroes
02. War Songs
03. A Dream Of Siam
04. Music For Chameleons
05. This Is My House
06. I, Assassin
07. The 1930's Rust
08. We Take Mystery (To Bed)
BONUS TRACKS
09. War Games
10. Glitter And Ash
11. The Image Is
12. This House Is Cold
13. Noise Noise
14. We Take Mystery (To Bed) (Early Version)
15. Bridge? What Bridge?

DISC 5 WARRIORS

01. Warriors
02. I Am Render
03. The Iceman Comes
04. This Prison Moon
05. My Centurion
06. Sister Surprise
07. The Tick Tock Man
08. Love Is Like Clock Law
09. The Rhythm Of The Evening
BONUS TRACKS
10. Poetry And Power
11. My Car Slides (1)
12. My Car Slides (2)
13. Nameless And Forgotten (Gangster Strut)
14. Sister Surprise (Single Mix)
15. Warriors (Full Length Version

How old:

This 5xCD is old!

Release Date:

May 1st 2013

Format:

5xCD

Record Label:

Beggars Banquet

Catalogue No:

BBQCD 2104

Price Guide:

£14.99

Country:

United Kingdom

Additional info:

The Replicon Project is a collaborative effort featuring musicians from the United States, Canada, Australia, England, France, and Scotland .

Highest Chart Position:

N/A

Credits:

N/A

Buy:
Additional Information
Drawing on his later tenure at Beggars Banquet, this set covers the albums recorded between 1981 and 1983. In 1981, Numan announced his retirement from live performance, playing three farewell concerts at Wembley Arena just prior to the release of Dance. His retirement proved short-lived, but when he returned in 1982 with I, Assassin, some of his popularity had dissipated — perhaps because of the retirement announcement, perhaps because the charts were overflowing with synth pop, much of which was already expanding on Numan's early innovations. I, Assassin was another Top Ten album, and "We Take Mystery (To Bed)" another hit, but in general Numan's singles were starting to slip on the charts; the title track of 1983's Warriors became his last British Top Ten hit.
DISC 1 LIVING ORNAMENTS '81 PART ONE
Recorded at the Wembley 'Farewell' shows, this show presents a concise overview of Numan's meteoric career to date and includes versions of some of his best known songs.

DISC 2 LIVING ORNAMENTS '81 PART TWO

DISC 3 DANCE
A transition album of sorts, Dance saw Numan departing from the jerky machine music of his synth pop prime to embrace a (bit) warmer sound that is less robotic and more free-form. The subject matter on highlights like "She's Got Claws," "Slowcar to China," "Cry the Clock Said," and "Crash" are quintessentially Numan, but their musical frameworks are quite far removed from early hits like "Are 'Friends' Electric?" and "Cars." – John Bush All Music Guide

DISC 4 I, ASSASSIN
After the spare and lengthy reflections and dislocated experiments of his excellent Dance album, Gary Numan made a return to a more focused approach with I, Assassin, which turned out to be his last truly great album for many years. Numan's work here with modern electronic funk combines his early rigor and to-the-point rhythms with a deft, creative hand in the arrangements. "White Boys and Heroes," the brilliant opening number, remains one of his best singles, featuring fretless bass work from Pino Palladino (long before both it and him had turned into rent-a-clichés), and set against droning, distorted vocals and doom-laden keyboards. The vaguely Asian (or at least the group Japan)-inspired textures of Dance linger on in songs like "A Dream of Siam" and the title track (the latter possessing a captivating hollow-drum-punch introduction), while one of Numan's most randomly entertaining songs pops up with "The 1930s Rust." It's a suave finger-snapping number that even features harmonica, but somehow Numan's ear for to-the-point rhythm and strange futurism still comes through. Perhaps the most underrated song remains the sharp hipshaker "War Songs" — U2 may never want to admit it, but "Numb" takes more than a little from the distorted up-and-down introductory guitar clips. – Ned Raggett All Music Guide

DISC 5 WARRIORS
Former Be-Bop Deluxe leader Bill Nelson was brought in to produce this album and provide some soaring lead guitar work, but the collaboration with Numan was beset by difficulties. While Nelson's production is evident on many tracks and his guitar is heard in several places, much of this is business as usual (B-side, "Poetry and Power," features more Nelson and has gone on to a great deal of popularity, especially with the Gravity Kills cover on Random). The science fiction influences here are Robert A. Heinlein's The Moon Is a Harsh Mistress and Harlan Ellison's "'Repent, Harlequin!' Cried the Tick-Tock Man." While there is some evidence of confusion as to his direction, the music and songwriting has more energy than anything on the predecessor, I, Assassin, with some genuinely engaging moments along the way. – Steven McDonald All Music Guide.