Social Media
Get the lowdown on Gary Numan and follow us, join the Gary Numan community on social media. Join in the fun and have you say.
Amazon
Search for New and Used Gary Numan CDs, Vinyl, DVDs.
Tour Dates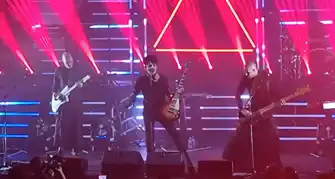 Check out the latest Gary Numan tour dates, events. See one of the founding fathers of synth pop.
Forum
To all Gary Numan fans the Numanme Forum is the forum for you a place for you to be completely Numanized. You can apply for free membership NOW!.
Facebook
This group has been put together for fans of Gary Numan and visitors of the Numanme site, to discuses all things Numan sell/trade share stories and images from all aspects of Numan's career.
Weather Forecast
Podcast
Numanme Radio Podcast will be playing you some of the best Classic Alternative, New Wave, Dark Wave, Synth-Pop, and Punk. Also, a staple diet of Gary Numan/Tubeway Army without question. Shows will be updated here when they become available.
Photo Gallery
These galleries contain Gary Numan related photographs. ranging form the Tubeway Army days to present day. Feel free to browse and if you would like to add any of your own images please get in touch.
Poll
Vote for your favorite Gary Numan album or song.
Numan Quotes +
From Inside LP
Title:

From Inside

Suggested Video

Artist:

Gary Numan & Ade Fenton

Tracklist:

A1. The Train
A2. Wasteland
A3. We Cross A Bridge Over Death
A4. On A Red Lake
A5. The Empty House
A6. Memories of Fire
B1. Doody
B2. So Many Bodies
B3. Refinery
B4. Crows
B5. The Killing
B6. My Part In This Is Over
B7. Almost Inhuman
B8. A Moment of Reflection
B9. Nothing Can Stop Us
C1. The Cave In
C2. A Dream About the Dirty-Faced Girl
C3. The Little Fire Engine
C4. Heaven and Hell
C5. Leviathan
C6. The End Of The World
D1. Cee, The Light
D2. Falling
D3. Finding Him
D4. The Bandaged Man
D5. Into The Eternal Flames

How old:

This 2xLP is old!

Release Date:

October 7th 2014

Format:

2xLP

Record Label:

Lakeshore Records

Catalogue No:

MDV 6622

Price Guide:

£24.00

Country:

United States of America

Additional info:

Special Edition, Import.

Highest Chart Position:

N/A

Credits:

A&R [A&R Director] – Eric Craig
Art Direction, Artwork – John Bergin
Executive-Producer – Skip Williamson
Executive-Producer [Soundtrack Album] – Brian McNelis, John Bergin
Lacquer Cut By – AJB*
Management [Ade Fenton] – Random Music Management*
Management [Gary Numan] – David Zonshine, Marc Sallis, Stone Letter Management
Mastered By – DNA Mastering
Mixed By – Ade Fenton, Nathan Boddy
Performer [Performed By], Producer, Written-By – Ade Fenton, Gary Numan
Licensed From – Lakeshore Records
Copyright © – Phineas Atwood Productions
Published By – Numan Music LLC
Published By – Copyright Control
Mastered At – DNA Mastering
Lacquer Cut at – Well Made Music

Buy:
Additional Information
Based on the epic graphic novel by John Bergin, From Inside is the story of Cee, a young pregnant woman who finds herself on a damaged train slowly transcribing its way across a bleak post-apocalyptic landscape. Cee struggles with memories of her lost husband and the imminent birth of her child. Soundtrack composed by Electronic and Industrial music pioneer Gary Numan and Ade Fenton.