Social Media
Get the lowdown on Gary Numan and follow us, join the Gary Numan community on social media. Join in the fun and have you say.
Amazon
Search for New and Used Gary Numan CDs, Vinyl, DVDs.
Tour Dates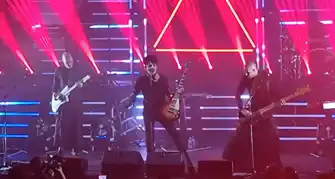 Check out the latest Gary Numan tour dates, events. See one of the founding fathers of synth pop.
Forum
To all Gary Numan fans the Numanme Forum is the forum for you a place for you to be completely Numanized. You can apply for free membership NOW!.
Facebook
This group has been put together for fans of Gary Numan and visitors of the Numanme site, to discuses all things Numan sell/trade share stories and images from all aspects of Numan's career.
Weather Forecast
Podcast
Numanme Radio Podcast will be playing you some of the best Classic Alternative, New Wave, Dark Wave, Synth-Pop, and Punk. Also, a staple diet of Gary Numan/Tubeway Army without question. Shows will be updated here when they become available.
Photo Gallery
These galleries contain Gary Numan related photographs. ranging form the Tubeway Army days to present day. Feel free to browse and if you would like to add any of your own images please get in touch.
Poll
Vote for your favorite Gary Numan album or song.
Numan Quotes +
Exile HMV LP
Title:

Exile

Suggested Video

Artist:

Gary Numan

Tracklist:

A1. Dominion Day
A2. Prophecy
A3. Dead Heaven
A4. Dark
A5. Innocence Bleeding
B6. The Angel Wars
B7. Absolution
B8. An Alien Cure
B9. Exile

How old:

This LP is old!

Release Date:

July 24th 2021

Format:

LP

Record Label:

Ear Music

Catalogue No:

0216425EMX

Price Guide:

£40.00

Country:

United Kingdom

Additional info:

Gatefold Picture silver vinyl and limited to just 600 copies.

Highest Chart Position:

N/A

Credits:

Gary Numan (All Instruments, Vocals)
Mike Smith (Additional Keyboards on 'Prophecy', 'Dark', 'The
Angel Wars', 'An Alien Cure', and 'Exile')
Rob Harris (Guitar on 'Innocence Bleeding', 'An Alien Cure',
and 'Exile', Additional Guitar on 'Dead Heaven')

All tracks written, performed, engineered and mixed by Gary Numan
Assistant engineer: Gemma Webb

Recorded at Outland Studio, England
Mastered at Surrey Sound Studios, England
Mastering engineer: Simon Shazell
Re-mastered at Hatch Farms Studios by John Burns
Sleeve design: NuFederation
Cover and centre photograph: Joseph Cultice
Make-up: Kate Lee
Management: Tony Webb (Machine Music Ltd) .

Buy:
Additional Information
The 13th album from synth-pop pioneer Gary Numan first arrived in 1997 in a period of renewed critical appreciation for the artist that had begun with the album's predecessor Sacrifice. Both albums saw a return to the unique songwriting style that had made him such a standout presence in the early 1980s, but here the sound is much darker and more atmospheric than what had come before, setting the tone for much of his output ever since.

Exile returns to stores on vinyl as part of our exclusive centenary line-up with a newly-pressed edition on silver vinyl and limited to just 600 copies.