Social Media
Get the lowdown on Gary Numan and follow us, join the Gary Numan community on social media. Join in the fun and have you say.
Amazon
Search for New and Used Gary Numan CDs, Vinyl, DVDs.
Tour Dates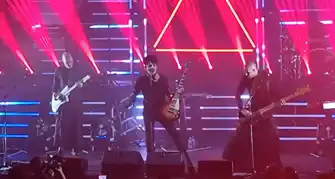 Check out the latest Gary Numan tour dates, events. See one of the founding fathers of synth pop.
Forum
To all Gary Numan fans the Numanme Forum is the forum for you a place for you to be completely Numanized. You can apply for free membership NOW!.
Facebook
This group has been put together for fans of Gary Numan and visitors of the Numanme site, to discuses all things Numan sell/trade share stories and images from all aspects of Numan's career.
Weather Forecast
Podcast
Numanme Radio Podcast will be playing you some of the best Classic Alternative, New Wave, Dark Wave, Synth-Pop, and Punk. Also, a staple diet of Gary Numan/Tubeway Army without question. Shows will be updated here when they become available.
Photo Gallery
These galleries contain Gary Numan related photographs. ranging form the Tubeway Army days to present day. Feel free to browse and if you would like to add any of your own images please get in touch.
Poll
Vote for your favorite Gary Numan album or song.
Numan Quotes +
Everybody Wants Some LP
Title:

Everybody Wants Some

Suggested Video

Artist:

Various

Tracklist:

A1. My Sharona
A2. Heart Of Glass
A3. Take Your Time (Do It Right)
A4. Heartbreaker
A5. Every 1's A Winner
A6. Alternative Ulster
B1. Everybody Wants Some!!
B2. Let's Get Serious
B3. Pop Muzik
B4. Because the Night
B5. I Want You To Want Me (Live)
B6. Rough Boys
C1. Ain't Talkin' 'Bout Love
C2. Bad Girls
C3. Hand In Hand
C4. Whip It
C5. I'm Bad, I'm Nationwide
C6. Maybe I'm A Fool
D1. Romeo's Tune
D2. Give Up The Funk (Tear The Roof Off The Sucker)
D3. Driver's Seat
D4. Cars
D5. Good Times Roll
D6. Rapper's Delight (Single Version)

How old:

This 2xLP is old!

Release Date:

July 15th 2016

Format:

2XLP

Record Label:

Warner Bros

Catalogue No:

555700-1

Price Guide:

£22.99

Country:

United Kingdom

Additional info:

Only the Vinyl format has Cars no it.

Highest Chart Position:

N/A

Credits:

A1. The Knack
A2. Blondie
A3. The S.O.S. Band
A4. Pat Benatar=
A5. Hot Chocolate
A6. Stiff Little Fingers
B1. Van Halen
B2. Jermaine Jackson
B3. M (2)
B4. Patti Smith Group
B5. Cheap Trick
B6. Pete Townshend
C1. Van Halen
C2. Donna Summer
C3. Dire Straits
C4. Devo
C5. ZZ Top
C6. Eddie Money
D1. Steve Forbert
D2. Parliament
D3. Sniff 'n' the Tears
D4. Gary Numan
D5. The Cars
D6. Sugarhill Gang

Buy:
Additional Information
The official soundtrack by the film's director Richard Linklater, featuring classic songs from Van Halen, The Cars, The Knack, and many more.

"The Everybody Wants Some soundtrack tries to capture the amazing diversity of what was on the table musically at that time. So many artists were at the top of their game, and it seemed like a lot of popular genres were viable. Metal and R&B were as big as ever, disco was still hanging in there (although it would be 'dead' within a year or so), and, thanks to the movie Urban Cowboy, country was suddenly cool in places it hadn't been before. Even more exciting was the immediacy of punk and new wave, and the first examples of this thing you'd eventually know as hip-hop. Over the years some of this has been parodied and made to look ridiculous, but this movie is asking you to experience it as if for the first time - from those opening drum beats of 'My Sharona' to the utter newness of 'Rapper's Delight.'" by the film's director Richard Linklater, featuring classic songs from Van Halen, The Cars, The Knack, Gary Numan, and many more.