Social Media
Get the lowdown on Gary Numan and follow us, join the Gary Numan community on social media. Join in the fun and have you say.
Amazon
Search for New and Used Gary Numan CDs, Vinyl, DVDs.
Tour Dates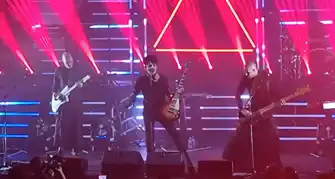 Check out the latest Gary Numan tour dates, events. See one of the founding fathers of synth pop.
Forum
To all Gary Numan fans the Numanme Forum is the forum for you a place for you to be completely Numanized. You can apply for free membership NOW!.
Facebook
This group has been put together for fans of Gary Numan and visitors of the Numanme site, to discuses all things Numan sell/trade share stories and images from all aspects of Numan's career.
Weather Forecast
Podcast
Numanme Radio Podcast will be playing you some of the best Classic Alternative, New Wave, Dark Wave, Synth-Pop, and Punk. Also, a staple diet of Gary Numan/Tubeway Army without question. Shows will be updated here when they become available.
Photo Gallery
These galleries contain Gary Numan related photographs. ranging form the Tubeway Army days to present day. Feel free to browse and if you would like to add any of your own images please get in touch.
Poll
Vote for your favorite Gary Numan album or song.
Numan Quotes +
Electric Dreams 2017 CD
Title:

Electric Dreams

Suggested Video

Artist:

Various Artists

Tracklist:

Disc: 1

1. Giorgio Moroder & Philip Oakey - Together In Electric Dreams
2. Soft Cell - Tainted Love
3. Gary Numan - Cars
4. Tubeway Army - Are 'Friends' Electric?"
5. Ultravox - Vienna
6. Heaven 17 - Temptation
7. The Human League - Don't You Want Me
8. Frankie Goes To Hollywood - Relax
9. Duran Duran - The Reflex
10. New Order - Blue Monday '88
11. Paul Hardcastle - 19
12. Harold Faltermeyer - Axel F (From "Beverly Hills Cop" Soundtrack)
13. Orchestral Manoeuvres In The Dark - Souvenir
14. Visage - Fade To Grey
15. Art Of Noise - Close (To The Edit)
16. Yello - The Race
17. Flash And The Pan - Waiting For A Train
18. Jan Hammer - Crockett's Theme (Miami Vice/Soundtrack Version)
19. Black - Wonderful Life
20. Tears For Fears - Mad World

Disc: 2

1. Spandau Ballet - To Cut A Long Story Short
2. Go West - We Close Our Eyes
3. Simple Minds - Don't You (Forget About Me)
4. Living In A Box - Living In A Box
5. M - Pop Muzik
6. A Ha - Take On Me
7. Bronski Beat - Smalltown Boy
8. Howard Jones - What Is Love
9. Steve Winwood - Valerie
10. Midge Ure - No Regrets
11. Belouis Some - Imagination
12. Animotion - Obsession
13. Blancmange - Living On The Ceiling
14. Sigue Sigue Sputnik - Love Missile F1 11
15. Electronic - Get The Message
16. The Associates - Party Fears Two
17. Trans X - Living On Video
18. Japan - Ghosts
19. Roxy Music - Avalon
20. The Cars - Drive

Disc: 3

1. Donna Summer - I Feel Love
2. The Communards and Sarah Jane Morris - Don't Leave Me This Way
3. Freeez - I.O.U
4. Nu Shooz - I Can't Wait
5. Grace Jones - Pull Up To The Bumper
6. Howard Jones - New Song
7. Johnny Hates Jazz - Shattered Dreams
8. Alphaville - Big in Japan
9. China Crisis - Black Man Ray
10. David Sylvian & Ryuichi Sakamoto - Forbidden Colours
11. Sparks - Beat The Clock
12. Classix Nouveaux - Is It A Dream
13. Propaganda - Dr Mabuse
14. Thomas Dolby - She Blinded Me With Science
15. Devo - Whip It
16. Man Parrish - Hip Hop Be Bop
17. Hashim - Al Naafiyish (The Soul) (It's Timmme!!)
18. Talk Talk - Talk Talk
19. The Cure - The Walk
20. Joy Division - Love Will Tear Us Apart

How old:

This 3xCD is old!

Release Date:

September 22nd 2017

Format:

3xCD

Record Label:

Universal Music TV

Catalogue No:

5379624

Price Guide:

£7.00

Country:

United Kingdom

Additional info:

-----

Highest Chart Position:

N/A

Credits:

Marketed By – Universal Music Operations Ltd.
Distributed By – Universal Music Operations Ltd.
Phonographic Copyright (p) – Universal Music On Demand
Copyright (c) – Universal Music On Demand
Glass Mastered At – Sony DADC

Buy:
Additional Information
As the Seventies faded into the Eighties, Top of the Pops approached its 1000th episode, MTV launched in America, and kids across Britain were falling in love with pop music away from the TV, through a small little box called a Walkman. Through their headphones came new, strange sounds: mechanical, but organic and alive. The synthesiser was the sound of tomorrow, today, and it was thrilling.

If the Seventies was the era of the album, the Eighties gave new life to the single – short bursts of bright, gleeful keyboards, portals to other worlds which made yours feel a little brighter.

Pop music was suddenly ablaze with infectious and irresistible sounds, led by a new batch of stars, Marc Almond, Donna Summer, Grace Jones, Holly Johnson. All eccentric and lovable, extra-terrestrial yet human, and groomed for the video pop generation.

Gathered on this 3CD set are the very best tracks from the era, all monstrous hits, which define their times, yet still sound like the future. From the arched eyebrow of 'Relax', the Italo-disco of 'I Feel Love', to the swooning, grandiose 'Vienna'.

But we begin with a collaboration between a moustachioed pioneer from the mountains of Italy, Giorgio Moroder, and the pride of Sheffield, Phil Oakey. The lightning in a bottle recording apparently took ten minutes to make. It's lasted decades, and kickstarts this album, a pure celebration of the era. Enjoy!.