Social Media
Get the lowdown on Gary Numan and follow us, join the Gary Numan community on social media. Join in the fun and have you say.
Amazon
Search for New and Used Gary Numan CDs, Vinyl, DVDs.
Tour Dates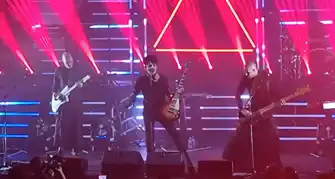 Check out the latest Gary Numan tour dates, events. See one of the founding fathers of synth pop.
Forum
To all Gary Numan fans the Numanme Forum is the forum for you a place for you to be completely Numanized. You can apply for free membership NOW!.
Facebook
This group has been put together for fans of Gary Numan and visitors of the Numanme site, to discuses all things Numan sell/trade share stories and images from all aspects of Numan's career.
Weather Forecast
Podcast
Numanme Radio Podcast will be playing you some of the best Classic Alternative, New Wave, Dark Wave, Synth-Pop, and Punk. Also, a staple diet of Gary Numan/Tubeway Army without question. Shows will be updated here when they become available.
Photo Gallery
These galleries contain Gary Numan related photographs. ranging form the Tubeway Army days to present day. Feel free to browse and if you would like to add any of your own images please get in touch.
Poll
Vote for your favorite Gary Numan album or song.
Numan Quotes +
Dead Moon Falling
Title:

Dead Moon Falling

Suggested Video

Artist:

Gary Numan

Tracklist:

01. Big Noise Transmission (Tim Burgess Remix)
02. Dead Sun Rising (Sonoio Remix)
03. We Are The Lost (Gazelle Twin Remix)
04. When The Sky Bleeds, He Will Come (TweakerRay Remix)
05. Not The Love We Dream Of (Toby Butler/The Duke Spirit Remix)
06. The Fall (Officers Remix)
07. For The Rest Of My Life (Alec Empire Remix)
08. For The Rest Of My Life (Reprise) (Is Tropical Remix)
09. Dead Sun Rising (Grayed Out Mix)
10. For You (Featuring Andy Gray)
11. Petals (Featuring Officers)

How old:

This CD is old!

Release Date:

December 29th 2012

Format:

CD

Record Label:

Mortal Records

Catalogue No:

MORTALCD12

Price Guide:

£9.99

Country:

United Kingdom

Additional info:

N/A

Highest Chart Position:

N/A

Credits:

N/A

Buy:
Additional Information
This album features remixes of eight tracks taken from the 2011 album, 'Dead Son Rising'. There are also three bonus tracks exclusive to this limited edition CD: A new track called 'For You' written and with Andy
Gray, plus the Grayed Out Mix of 'Dead Sun Rising' and Numan's recent collaboration with Officers, 'Petals'.