Social Media
Get the lowdown on Gary Numan and follow us, join the Gary Numan community on social media. Join in the fun and have you say.
Amazon
Search for New and Used Gary Numan CDs, Vinyl, DVDs.
Tour Dates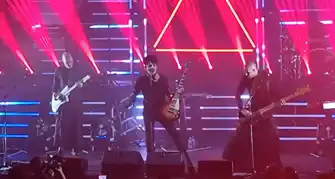 Check out the latest Gary Numan tour dates, events. See one of the founding fathers of synth pop.
Forum
To all Gary Numan fans the Numanme Forum is the forum for you a place for you to be completely Numanized. You can apply for free membership NOW!.
Facebook
This group has been put together for fans of Gary Numan and visitors of the Numanme site, to discuses all things Numan sell/trade share stories and images from all aspects of Numan's career.
Weather Forecast
Podcast
Numanme Radio Podcast will be playing you some of the best Classic Alternative, New Wave, Dark Wave, Synth-Pop, and Punk. Also, a staple diet of Gary Numan/Tubeway Army without question. Shows will be updated here when they become available.
Photo Gallery
These galleries contain Gary Numan related photographs. ranging form the Tubeway Army days to present day. Feel free to browse and if you would like to add any of your own images please get in touch.
Poll
Vote for your favorite Gary Numan album or song.
Numan Quotes +
Dance LP
Title:

Dance

Suggested Video

Artist:

Gary Numan

Tracklist:

A1. Slowcar to China (HD)
A2. Night Talk (HD)
A3. A Subway Called 'You' (HD)
B1. Cry, the Clock Said (HD)
B2. She's Got Claws (HD)
B3. Crash (HD)
C1. Boys Like Me (HD)
C2. Stories (HD)
C3. My Brother's Time (HD)
C4. You Are, You Are (HD)
C5. Moral (Extended Version, previously unreleased)
D1. Stormtrooper In Drag (single)
D2. Face To Face (B-side)
D3. Dance (outtake)
D4. Exhibition (B-side)
D5. I Sing Rain (B-side)

How old:

This 2xLP is old!

Release Date:

January 19th 2018

Format:

LP

Record Label:

Beggars Banquet

Catalogue No:

BBQLP 2146

Price Guide:

£25.00

Country:

United Kingdom

Additional info:

Dance 2xLP Reissue On Purple Vinyl With Download High Quality MP3,s.

Highest Chart Position:

N/A

Credits:

Gary Numan (Vocals, Odyssey, Bass, LM.1 Drum Computer,
Polymoog, Roland JP4, CP30, Piano, Percussion, CR78,
Prophet 5, Claptrap, Claves, Handclaps)
Paul Gardiner (Guitar, Odysey)
Sean Lynch (LM.1 Operation)
Rob Dean (Guitars)
Cedric Sharpley (drums)
Christopher Payne (Violas)
Mick Karn (Bass, Saxophone)
Roger Taylor (Drums,Tom Toms)
Nash The Slash (Violins)
John Webb (JP4 Operator, handclaps, LM1. Computer)
Connie Filapello (Voice)
Roger Mason (Prophet 5, CP30)
Mick Prague (Bass)
Jess Lynard (Drums)

Produced by Gary Numan
Engineered by Nick Smith
Assisted by Sean Lynch, Juliet Bowen
Mastered by Steve Rooke, Strawberry Mastering, London. .

Buy:
Additional Information
In September 1981 Gary Numan released his most experimental album so far, the abstract, atmospheric Dance. Sessions began during Numan's build up to his April, '81 Farewell Shows at Wembley Arena, London but in deliberate contrast to the fat, full blooded electronic boom of those performances the new LP was intimate sounding and almost oriental in its quiet minimalistic aproach. It reached Number 3 in the UK album charts.

However, Dance's off-beat direction was too weird for mainstream international markets. To some extent Dance illustrated Numan's willingness to trade in his fame for an alternative, less intrusive appeal was brave but not entirely supported by Beggars Banquet who were clearly worried by this new direction. As one journalist wrote, "Dance does prove that when judged against his proper peers he can come out well. It's a thoughtful response to the new competition."
CONTAINS PREVIOUSLY UNRELEASED, FULL-LENGTH VERSION OF "MORAL" • DOUBLE LP + GATEFOLD + INNER SLEEVES • PURPLE VINYL • REMASTERED • SIDE D CONTAINS singles, B-sides and an out-take.