Social Media
Get the lowdown on Gary Numan and follow us, join the Gary Numan community on social media. Join in the fun and have you say.
Amazon
Search for New and Used Gary Numan CDs, Vinyl, DVDs.
Tour Dates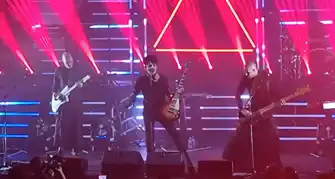 Check out the latest Gary Numan tour dates, events. See one of the founding fathers of synth pop.
Forum
To all Gary Numan fans the Numanme Forum is the forum for you a place for you to be completely Numanized. You can apply for free membership NOW!.
Facebook
This group has been put together for fans of Gary Numan and visitors of the Numanme site, to discuses all things Numan sell/trade share stories and images from all aspects of Numan's career.
Weather Forecast
Podcast
Numanme Radio Podcast will be playing you some of the best Classic Alternative, New Wave, Dark Wave, Synth-Pop, and Punk. Also, a staple diet of Gary Numan/Tubeway Army without question. Shows will be updated here when they become available.
Photo Gallery
These galleries contain Gary Numan related photographs. ranging form the Tubeway Army days to present day. Feel free to browse and if you would like to add any of your own images please get in touch.
Poll
Vote for your favorite Gary Numan album or song.
Numan Quotes +
Dance 2012 30 Years Fan Tribute
Title:

Dance 2012 30 Years Fan Tribute

Suggested Video

Artist:

Gary Numan

Tracklist:

Disc 1

01. Brian Challis (enzine1) - Slowcar to China
02. Aaron Clague - Night Talk
03. The DMB Experiment - subway with vocals
04. El Greebo - Cry The Clock Said
05. Paul Hurst - Shes Got Claws
06. ANA - Crash
07. Timothy Eilers - Boys Like Me
08. Matt Jessup - Stories
09. Evil Alter Ego - My Brother's Time
10. JazzyGB1 - You Are, You Are
11. Jon Heath - Moral (feat. Matt Jessup Vox Mix)
12. Geared - Stormtrooper In Drag
13. Scorbie - Face To Face
14. Brian Challis - Dance
15. Inca Airport - Exhibition
16. Numanme - I Sing Rain

Disc 2

01. Zer0sum80 - Dance + My Brothers Time
02. Synthsound1 - Dance
03. The Manitou featuring Jimmy Aaron - My Brother's Time
04. Nuways - Cry, the clock said (Cover by Nuways 2009)
05. Timothy Eilers - She's Got Claws vs. Cars
06. Young Things Don't Scream - Crash
07. Geared - Boys Like Me -geared
08. Ireplicant - Stories
09. Jon Heath feat. Brooke Mitchell - My Brother's Time
10. Jagged Halo uk - Cry The Clock Said
11. Geared - Moral (Romantic Mix)
12. Matt Jessup/Scorbie/David Ansara & The Apparently Dead/Bill Davies -Stormtrooper In Drag Mix 4
13. Phil Marsh - Face To Face
14. jagged Halo uk - Dance mastered-jagged Halo uk
15. challis/numan - Moral
16. Numanme - I sing rain
17. Paul Hurst - A subway called 'you'

How old:

This Download is old!

Release Date:

June 1st 2012

Format:

Download Only

Record Label:

Numanme fan site

Catalogue No:

nu-me 04

Price Guide:

£00.00 Free Digital Download

Country:

United Kingdom

Additional info:

Digital Download Only With full artwork .

Highest Chart Position:

N/A

Credits:

N/A

Buy:
Additional Information
Gary Numan has influenced fans and creators of electronic music for over three decades. Many of these individuals are now members of the Numanme Forum, a site where they continue to forge friendships and display their talents. The fruits of these influences now come to the fore, Numanme presents 'Dance 2012' a diverse and accomplished collection of covers of Numan's classics album 'Dance'. This collection from members of the Numan community is a warm tribute to the album and to the man himself.

Gary Numan was never one to shy away from change, with each new album came a new image and musical style. The 1981 'Dance' album was no exception, 'Dance' contained a collection of sombre tracks, a haunting masterpiece and arguably Numan's best work lyrically; each song has its own story line of broken relationships, the New Romantic movement and people meeting in cafes but still expressed with Numan's trademark.

This Digital Download is to celebrate the coming of age of the album which is 30 years old. .