Social Media
Get the lowdown on Gary Numan and follow us, join the Gary Numan community on social media. Join in the fun and have you say.
Amazon
Search for New and Used Gary Numan CDs, Vinyl, DVDs.
Tour Dates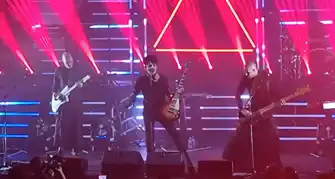 Check out the latest Gary Numan tour dates, events. See one of the founding fathers of synth pop.
Forum
To all Gary Numan fans the Numanme Forum is the forum for you a place for you to be completely Numanized. You can apply for free membership NOW!.
Facebook
This group has been put together for fans of Gary Numan and visitors of the Numanme site, to discuses all things Numan sell/trade share stories and images from all aspects of Numan's career.
Weather Forecast
Podcast
Numanme Radio Podcast will be playing you some of the best Classic Alternative, New Wave, Dark Wave, Synth-Pop, and Punk. Also, a staple diet of Gary Numan/Tubeway Army without question. Shows will be updated here when they become available.
Photo Gallery
These galleries contain Gary Numan related photographs. ranging form the Tubeway Army days to present day. Feel free to browse and if you would like to add any of your own images please get in touch.
Poll
Vote for your favorite Gary Numan album or song.
Numan Quotes +
Dama LP
Title:

Dama

Suggested Video

Artist:

Titan

Tracklist:

A1 Dama Fina
A2 Hell.A. (feat. Siobhan Fahey)
A3 Tchaikovski
B1 Sangre
B2 Dama Negra (feat. El Columpio Asesino)
B3 Dark Rain (feat. Gary Numan)
C1 El Rey Del Swing
C2 Apache
C3 Arahant (feat. Church)
D1 Soldado
D2 She Likes De Music (feat. Egyptian Lover)
D3 Himno

How old:

This 2XLP is old!

Release Date:

October 28th 2016

Format:

2XLP

Record Label:

ATP Recordings

Catalogue No:

0780742216647

Price Guide:

£22.99

Country:

United Kingdom

Additional info:

Dark Rain (feat. Gary Numan)

Highest Chart Position:

N/A

Credits:

Design – Despacho Durango
Mastered By – Bernie Grundman
Mixed By – Nick Launay
Photography By – Mark Powell*
Producer – Nick Launay, Titan
Tracking By – Jerry Ordoñez*

Buy:
Additional Information
Fans have come to expect TITAN mixing wildly divergent styles and pushing boundaries, and their return is as eclectic and innovative as ever. Like fellow iconoclasts Avalanches and Portishead, TITAN don't record an album every two years. As they see it, "It's very healthy to take some time to do some other stuff and make an album when you really want to. We've always worked like that, maybe on this occasion we took some extra time." The wait has been worth it. DAMA came together over five trips to famed recording studio, Sonic Ranch in Texas with Nick Launay, whose credits include Arcade Fire, Nick Cave and The Bad Seeds, David Byrne, and the Yeah Yeah Yeah's. Launay not only produced the album, he was key in hooking TITAN up with their guests. Of Gary, Egyptian Lover, and Siobhan they say, "Working with them we could understand why they are who they are. They are artists that we have respected since we were teenagers so it is a luxury to have them on the album." TITAN, as they remind everyone, never broke up, never stopped creating, performing, touring, producing. DAMA happened in 2016, "because the planets aligned. The conditions we wanted to make the new album were the ones we were looking for some years ago: economic independence, amazing recording studio, incredible producer, great collaborations."