Social Media
Get the lowdown on Gary Numan and follow us, join the Gary Numan community on social media. Join in the fun and have you say.
Amazon
Search for New and Used Gary Numan CDs, Vinyl, DVDs.
Tour Date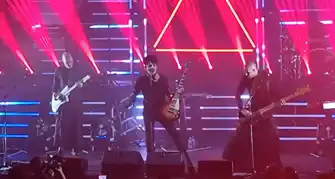 Check out the latest Gary Numan tour dates, events. See one of the founding fathers of synth pop.
Forum
To all Gary Numan fans the Numanme Forum is the forum for you a place for you to be completely Numanized. You can apply for free membership NOW!.
Facebook
This group has been put together for fans of Gary Numan and visitors of the Numanme site, to discuses all things Numan sell/trade share stories and images from all aspects of Numan's career.
Weather Forecast
Podcast
Numanmes Living Ornaments Podcast will be playing you some of the best Classic Alternative, New Wave, Dark Wave, Synth-Pop, and Punk. Also, a staple diet of Gary Numan/Tubeway Army without question. Shows will be updated here when they become available.
Photo Gallery
These galleries contain Gary Numan related photographs. ranging form the Tubeway Army days to present day. Feel free to browse and if you would like to add any of your own images please get in touch.
Poll
Vote for your favorite Gary Numan album or song.
Numan Quotes +
Blue And Yellow Light
Title:

Blue And Yellow Light

Suggested Video

Artist:

The Duke Spirit

Tracklist:

A1. Blue And Yellow Light (Unkle Remix)
B2. Blue And Yellow Light (Roman Remains Remix) featuring vocals by Gary Numan.
B3. Here Comes The Vapour (Youth Remix)

How old:

This 12" is old!

Release Date:

January 19th 2016

Format:

12"

Record Label:

RCA

Catalogue No:

LC19376

Price Guide:

£25.00

Country:

United Kingdom

Additional info:

This exclusive to Record Store Day 16 April 12" features 3 remixes of tracks from the bands forthcoming album Kin.

Highest Chart Position:

N/A

Credits:

N/A

Buy:
Additional Information
This exclusive to Record Store Day 12" features 3 remixes of tracks from the bands forthcoming album Kin.

'Blue and Yellow Light' gets a blissful 9 minute long dance remix (with a dash of Giorgio Moroder) courtesy of James Lavelle's Unkle. This raw remix gives light to long time band friend Mark Lanegan's unmistakable vocals, which also feature on the original album version. Band members Liela Moss and Toby Butler's side project Roman Remains also offers up a psychedelic, hypnotic, slice of dark electro, featuring vocals by iconic electronic pioneer Gary Numan. Lastly, legendary producer Youth throws some dub darkness into the pot with his warped remix of 'Here Comes The Vapour'.