Social Media
Get the lowdown on Gary Numan and follow us, join the Gary Numan community on social media. Join in the fun and have you say.
Amazon
Search for New and Used Gary Numan CDs, Vinyl, DVDs.
Tour Dates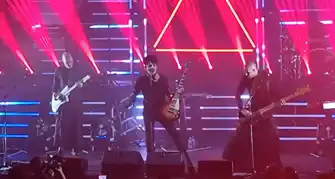 Check out the latest Gary Numan tour dates, events. See one of the founding fathers of synth pop.
Forum
To all Gary Numan fans the Numanme Forum is the forum for you a place for you to be completely Numanized. You can apply for free membership NOW!.
Facebook
This group has been put together for fans of Gary Numan and visitors of the Numanme site, to discuses all things Numan sell/trade share stories and images from all aspects of Numan's career.
Weather Forecast
Podcast
Numanme Radio Podcast will be playing you some of the best Classic Alternative, New Wave, Dark Wave, Synth-Pop, and Punk. Also, a staple diet of Gary Numan/Tubeway Army without question. Shows will be updated here when they become available.
Photo Gallery
These galleries contain Gary Numan related photographs. ranging form the Tubeway Army days to present day. Feel free to browse and if you would like to add any of your own images please get in touch.
Poll
Vote for your favorite Gary Numan album or song.
Numan Quotes +
Bill Bailey In Metal CD
Title:

Bill Bailey In Metal

Suggested Video

Artist:

Bill Bailey

Tracklist:

01. Lazer Gazer
02. Leg of Time (Metal Version)
03. Love Song (Metal Version)
04. Apocalyptic News (Metal Version)
05. Scarborough Fair (Rammstein Style)
06. Cars (Metal Version)
07. Das Hokey Kokey (Metal Version)
08. Oblivion (Metal Version)
09. Pot Plant Elegy (Metal Version)

How old:

This CD is old!

Release Date:

November 1st 2011

Format:

Format: CD

Record Label:

Glassbox Productions Ltd

Catalogue No:

N/A

Price Guide:

£10.00

Country:

United Kingdom

Additional info:

billbailey.co.uk

Highest Chart Position:

N/A

Credits:

Bill Bailey

Buy:
Additional Information
Bill Bailey is Britain's top musical comedian and so it shouldn't come as much of a surprise that he's decided to release an album. Or should it?


This project came about as a result of Bill being faced with the daunting prospect of performing at Sonisphere Festival, Knebworth, in front of a huge crowd of (quite possibly) rain-drenched metal-heads, there to see the likes of Slipknot. Bill thought there might be safety in numbers and set about putting together a band. He was very fortunate to assemble a great bunch of musicians, especially as it turned out to be the biggest gig of his life to date with over 60,000 in the crowd. Despite its title, Bill Bailey In Metal is an album of many musical styles, which will delight both metal and non-metal fans alike as Bill commits his inimitable genre-fusing and foreign language infused meaningful whimsy to CD.