Social Media
Get the lowdown on Gary Numan and follow us, join the Gary Numan community on social media. Join in the fun and have you say.
Amazon
Search for New and Used Gary Numan CDs, Vinyl, DVDs.
Tour Dates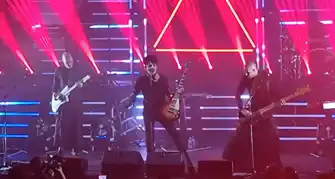 Check out the latest Gary Numan tour dates, events. See one of the founding fathers of synth pop.
Forum
To all Gary Numan fans the Numanme Forum is the forum for you a place for you to be completely Numanized. You can apply for free membership NOW!.
Facebook
This group has been put together for fans of Gary Numan and visitors of the Numanme site, to discuses all things Numan sell/trade share stories and images from all aspects of Numan's career.
Weather Forecast
Podcast
Numanme Radio Podcast will be playing you some of the best Classic Alternative, New Wave, Dark Wave, Synth-Pop, and Punk. Also, a staple diet of Gary Numan/Tubeway Army without question. Shows will be updated here when they become available.
Photo Gallery
These galleries contain Gary Numan related photographs. ranging form the Tubeway Army days to present day. Feel free to browse and if you would like to add any of your own images please get in touch.
Poll
Vote for your favorite Gary Numan album or song.
Numan Quotes +
Big Noise Transmission DVD
Title:

Big Noise Transmission

Suggested Video

Directed by:

Gary Numan

Tracklist:

10. Resurrection
02. Down In The Park
03. The Fall
04. Haunted
05. When The Sky Bleeds He Will Come
06. Films
07. Big Noise Transmission
08. Pure
09. Dead Sun Rising
10. Everyday I Die
11. We Are The Lost
12. Absolution
13. For The Rest Of My Life
14. Noise Noise
15. Everything Comes Down To This
16. Jagged
17. I Die: You Die
18. Cars
19. My Shadow In Vain
20. Are 'Friends' Electric?

How old:

This DVD is old!

Release Date:

August 20th 2012

Format:

DVD

Record Label:

MORTAL

Catalogue No:

MORTALDVD0010

Price Guide:

£15.00

Country:

United Kingdom

Additional info:

Recorded at the HMV Ritz, Manchester in December 2011.

Highest Chart Position:

N/A

Credits:

Gary Numan - Vocals & Guitar
Ade Fenton - Keyboards
Presley - Keyboards
Steve Harris - Bass
Richard Beasley - Drums
Tim Muddiman - Guitar

Lighting Design - Andrew Keightley
FOH Sound - Jon Sword
Stage Sound - Magali Couturier (MAGS)
Security - Gary Leyton (BIG C)
Mixed By - Ade Fenton & Nathan Boddy
Mastered By - Blacklisted Mastering
Authored By - Cybertech Productions
Artwork By - Paul Agar
Photography By - Ed Fielding
Management - Ade Fenton & Steve Malins on behalf of Machine Music Ltd

Buy:
Additional Information
Recorded at the HMV Ritz, Manchester in December 2011, 'Big Noise Transmission' captures the power, intensity and experimental textures of Gary Numan's recent critically-acclaimed Dead Son Rising album. The stage is blitzed with light - strobes being used like weapons for the set's biggest anthems.
At other times, everything fades, almost to blackout, with the viewer sucked into the darkness for a few moments before the heavy light-assault explodes into life again. Then cut to the images on the screen as each track is illustrated with slogans, graphics and burnt-out, degraded films. Dead Son Rising was a very special tour and Big Noise Transmission is a fantastic document of one of the artist's finest shows.