Social Media
Get the lowdown on Gary Numan and follow us, join the Gary Numan community on social media. Join in the fun and have you say.
Amazon
Search for New and Used Gary Numan CDs, Vinyl, DVDs.
Tour Dates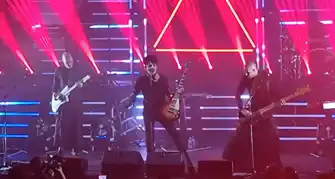 Check out the latest Gary Numan tour dates, events. See one of the founding fathers of synth pop.
Forum
To all Gary Numan fans the Numanme Forum is the forum for you a place for you to be completely Numanized. You can apply for free membership NOW!.
Facebook
This group has been put together for fans of Gary Numan and visitors of the Numanme site, to discuses all things Numan sell/trade share stories and images from all aspects of Numan's career.
Weather Forecast
Podcast
Numanme Radio Podcast will be playing you some of the best Classic Alternative, New Wave, Dark Wave, Synth-Pop, and Punk. Also, a staple diet of Gary Numan/Tubeway Army without question. Shows will be updated here when they become available.
Photo Gallery
These galleries contain Gary Numan related photographs. ranging form the Tubeway Army days to present day. Feel free to browse and if you would like to add any of your own images please get in touch.
Poll
Vote for your favorite Gary Numan album or song.
Numan Quotes +
Between Betjeman, Bach And Numan CD
Title:

Between Betjeman, Bach And Numan

Suggested Video

Artist:

Chris Payne

Tracklist:

01. Cornish Storm
02. Down in the Park
03. Still
04. Towards Crepuscule
05. Fade To Grey
06. Compass West
07. Before Winter
08. Twilight Lullaby
09. The Little French Ballad
10. The Enchanted Garden
11. Ysolt y'nn Gweinten 2012
12. Boudicca's Requiem
13. The Critic (Instrumental)
14. The Critic

How old:

This CD is old!

Release Date:

April 23rd 2012

Format:

CD

Record Label:

Coverdrive Records

Catalogue No:

CDR010

Price Guide:

£11.51

Country:

United Kingdom

Additional info:

N/A

Highest Chart Position:

N/A

Credits:

Arranged By – CJ Payne (tracks: 2, 5, 11)
Chapman Stick, Bass, Drums – Nigel Bates
Piano, Violin, Synthesizer, Flute [Bamboo], Low Whistle [Irish], Ukulele, Mandolin – Chris Payne (2)
Recorded By, Producer – CJ Payne (tracks: 1 to 10, 12 to 14)
Vocals, Recorder, Choir [Choral Voices] – Dominique Hémard-Payne*
Written-By – CJ Payne (tracks: 1, 3 to 14)

Buy:
Additional Information
A piano based album of original material and classics by former Gary Numan keyboard player, and founder of Celtic Legend Chris Payne.