Social Media
Get the lowdown on Gary Numan and follow us, join the Gary Numan community on social media. Join in the fun and have you say.
Amazon
Search for New and Used Gary Numan CDs, Vinyl, DVDs.
Tour Dates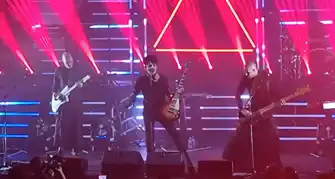 Check out the latest Gary Numan tour dates, events. See one of the founding fathers of synth pop.
Forum
To all Gary Numan fans the Numanme Forum is the forum for you a place for you to be completely Numanized. You can apply for free membership NOW!.
Facebook
This group has been put together for fans of Gary Numan and visitors of the Numanme site, to discuses all things Numan sell/trade share stories and images from all aspects of Numan's career.
Weather Forecast
Podcast
Numanme Radio Podcast will be playing you some of the best Classic Alternative, New Wave, Dark Wave, Synth-Pop, and Punk. Also, a staple diet of Gary Numan/Tubeway Army without question. Shows will be updated here when they become available.
Photo Gallery
These galleries contain Gary Numan related photographs. ranging form the Tubeway Army days to present day. Feel free to browse and if you would like to add any of your own images please get in touch.
Poll
Vote for your favorite Gary Numan album or song.
Numan Quotes +
Anthems Electronic 80S 3xCD
Title:

Anthems Electronic 80S 3-CD

Suggested Video

Artist:

Various Artists

Tracklist:

Disc: 1

01. Two Tribes - Frankie Goes to Hollywood
02. (Keep Feeling) Fascination - The Human League
03. Why - Bronski Beat
04. Say Hello, Wave Goodbye - Soft Cell
05. Save a Prayer - Duran Duran
06. The Look of Love (Part 1) - ABC
07. Chant No 1 (I Don't Need This Pressure On) - Spandau Ballet
08. Take On Me - a-ha
09. What Is Love - Howard Jones
10. Big in Japan - Alphaville
11. Don't Tell Me - Blancmange
12. Party Fears Two - The Associates
13. Love & Pride - King
14. Wouldn't It Be Good - Nik Kershaw
15. You Take Me Up - Thompson Twins
16. Come Live With Me - Heaven 17
17. Who Needs Love (Like That) - Erasure
18. Breakout - Swing Out Sister
19. All Stood Still - Ultravox
20. Mind of a Toy - Visage

Disc: 2

01. Da Da Da - Trio
02. Happy Birthday - Altered Images
03. Axel F - Harold Faltermeyer
04. Crockett's Theme - Jan Hammer
05. Rockit - Herbie Hancock
06. The Race - Yello
07. Word Up - Cameo
08. I Can't Wait - Nu Shooz
09. Obsession - Animotion
10. Chains of Love - Erasure
11. Life's What You Make It - Talk Talk
12. Steppin' Out - Joe Jackson
13. Waiting for a Train - Flash and the Pan
14. Life in a Northern Town - The Dream Academy
15. Christian - China Crisis
16. Messages - Orchestral Manoeuvres in the Dark
17. E=MC² - Big Audio Dynamite
18. Dance Hall Days - Wang Chung
19. Don't Look Down - Go West
20. War - Frankie Goes to Hollywood

Disc: 3

01. There Must Be an Angel (Playing With My Heart) - Eurythmics
02. Need You Tonight - INXS
03. Everybody Wants to Rule the World - Tears for Fears
04. Joan of Arc - Orchestral Manoeuvres in the Dark
05. Human - The Human League
06. China Girl - David Bowie
07. Heart of Glass - Blondie
08. Sledgehammer - Peter Gabriel
09. Running Up That Hill (A Deal With God) - Kate Bush
10. Eyes Without a Face - Billy Idol
11. More Than This - Roxy Music
12. Pull Up to the Bumper - Grace Jones
13. Alive and Kicking - Simple Minds
14. Dear Prudence - Siouxsie and the Banshees
15. I'm in Love With a German Film Star - The Passions
16. The Walk - The Cure
17. Confusion - New Order
18. Atmosphere - Joy Electric
19. Music for Chameleons - Gary Numan
20. Yellow Pearl - Philip Lynott

How old:

This CD is old!

Release Date:

November 29th 2012

Format:

CDX3

Record Label:

EMITV

Catalogue No:

MOSCD308

Price Guide:

£12.71

Country:

United Kingdom

Additional info:

N/A

Highest Chart Position:

N/A

Credits:

N/A

Buy:
Additional Information
Having sold over a million copies Anthems Electronic 80s returns this winter with the monumental third instalment in the phenomenal series. This 3CD album showcases not only the decade which brought electronic synth sounds to the forefront of chart music but also the ultra cool credible side of the 80s, this summer saw a whole host of definitive tracks played at the Olympic Games from the likes of Kate Bush and Annie Lennox. This, coupled with brand new tours from the likes of Depeche Mode and New Order truly fortifies the return of 80s New Wave to the mainstream.
CD1 features and array of talent with classic tracks from The Human League, Duran Duran, ABC, Spandau Ballet, and Nick Kershaw before CD2 dives into the cooler electronic sound of the decade with tracks from O.M.D, Jan Hammer, and Erasure. We end on Disc 3 with a plethora of the biggest artists and characters to grace the era including massive hits from David Bowie, Grace Jones, Kate Bush, Eurythmics, INXS, Blondie, New Order, Gary Newman and Peter Gabriel. Anthems Electronic 80s Volume III. The Essential 80s Soundtrack.