Social Media
Get the lowdown on Gary Numan and follow us, join the Gary Numan community on social media. Join in the fun and have you say.
Amazon
Search for New and Used Gary Numan CDs, Vinyl, DVDs.
Tour Dates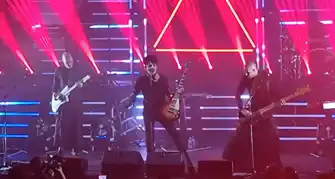 Check out the latest Gary Numan tour dates, events. See one of the founding fathers of synth pop.
Forum
To all Gary Numan fans the Numanme Forum is the forum for you a place for you to be completely Numanized. You can apply for free membership NOW!.
Facebook
This group has been put together for fans of Gary Numan and visitors of the Numanme site, to discuses all things Numan sell/trade share stories and images from all aspects of Numan's career.
Weather Forecast
Podcast
Numanme Radio Podcast will be playing you some of the best Classic Alternative, New Wave, Dark Wave, Synth-Pop, and Punk. Also, a staple diet of Gary Numan/Tubeway Army without question. Shows will be updated here when they become available.
Photo Gallery
These galleries contain Gary Numan related photographs. ranging form the Tubeway Army days to present day. Feel free to browse and if you would like to add any of your own images please get in touch.
Poll
Vote for your favorite Gary Numan album or song.
Numan Quotes +
Ade Fenton
About Ade Fenton

Ade Fenton first broke onto an unsuspecting techno scene in 1998 with the now legendary 'Coded' EP on his own Advanced label, and since then he has continued to develop his own brand of harsh, twisted dance floor beats. His sound was recognised by many of his peers and releases on such revered labels as Potential, Ground, Planet Rhythm, Audio, Zenit, Primate and Primevil have all helped to consolidate his considerable standing within the genre.

More recently, his work has seen him experimenting by fusing his love of industrial acts as Nine Inch Nails and Cabaret Voltaire into his dance floor material. His independent techno record label Perverter provided the perfect platform for these darker soundscapes epitomised most recently on the brutal 'Confessions of an English Psychopath' single.

As a compliment to his production work, Fenton is also an in demand dj with a busy schedule that has taken him across the globe, from Europe to North and South America, from Malaysia to Australia. He continues to hold his 8 year residency at English techno superclub Atomic Jam, and electrify audiences worldwide with his fierce dj sets that fuse thunderous drums with electro and industrial elements such as NIN, Aphex Twin et al now thrown into the mix, as exemplified on his recent Live at Maida Vale performance for BBC Radio 1.

In late 2005, Fenton's career was to take a dramatic upturn when world famous electronic / industrial godfather and innovator Gary Numan commissioned Ade to co-produce and co-engineer his album 'Jagged', He has now produced four critically acclaimed albums for Numan: Jagged, Dead Son Rising, Splinter and Savage, with Artrocker Magazine describing Dead Son Rising, which Ade also co-wrote, as "one of the great dystopian rock albums of all time".

Splinter (Songs From A Broken Mind) was released in October 2013, scoring Numan his first Top 20 album in over 30 years. The album enjoyed widespread global acclaim, with many critics hailing it as the finest album in Numan's career.

Its success meant Numan and Fenton would soon be back in the studio again working on the follow up Savage (Songs From A Broken World). Released in September 2017, Savage entered the Official UK Album Chart at number 2, delivering Numan his highest chart placing since 1980 and again receiving rave reviews.

Alongside his work as a record producer, Ade has produced numerous scores for film, TV and advertising. His recent projects include an original score and soundtrack album, composed alongside Gary Numan, for 'From Inside', an epic animated film released by Hollywood's Lakeshore Entertainment.

Ade has also formed a partnership with multi-instrumentalist Tim Slade, specialising in the creation of original music for Film, Television and Digital Media. In 2016 they completed original scores for the Investigation Discovery/October Films produced thrillers 'Angel Of Decay', 'The Chameleon' and 'The Head Hunter' (all currently airing on US TV screens). In 2017, the pair have completed an original score for British horror film 'Nails', which receives a theatrical release in November 2017 and composed original music for the forthcoming TV series 'Kiss Of Death' and 'Eight Days That Made Rome'..
Numanme Interview With Ade Fenton
Numanme: How did you start producing and would you recommend it to others.

Ade Fenton: I started producing my own music in about 1996. It took me a couple of years to get it to a good enough standard in which I felt comfortable with releasing it. So I set up my own label and never looked back really. I could never see myself doing anything else now, it's a fantastic way to make a living.

Numanme: when did you first realize you had a talent for producing and creating music.

Ade Fenton: As soon as I started really. It had always been something I'd wanted to do and circumstances at the time meant that it was the perfect time to take the plunge.

Numanme: If someone was going to start producing and creating music from a home PC what piece of software would you recommend for a beginner?

Ade Fenton: Well I use Logic Audio as my sequencer. However, for someone who's just starting, I'd have to say Ableton Live. It's a fabulous piece of software and an absolute joy to use.

Numanme: Is it true you are a Numanoid.

Ade Fenton: I'm a fan of Gary Numan's music, new and old, as well as many other artists. I don't like labels.

Numanme: Ade what was is it like to be the envy of most Numanoids, getting to work with the man himself.

Ade Fenton: Before anything, Gary is a close friend so it's great to be able to work closely with one of my mates.

Numanme: How did you get to know Gary and end up with the mammoth task of co-producing Jagged.

Ade Fenton: I got to know Gary through my best mate, who had been a friend of of his for a while. Over time, the three of us were hanging out together quite a bit. Gary had heard some of my album stuff and liked it, so eventually he asked me to work on the song 'Scanner'. That went really well so he decided to use me for the rest of the album.

Numanme: How removed is Jagged from the music you do.

Ade Fenton: It's quite a distance from the techno stuff that I'd made my name from. But, as I began to develop my own album ideas, I found that I enjoyed writing and producing songs (as opposed to dancefloor tracks) very much. So, it's quite close to the music I'm producing now, perhaps not so close to what I was doing 5 years ago.

Numanme: Did you feel the pressure to do well on Jagged or did Gary let your talent flow wild.

Ade Fenton: Yeah, of course I felt pressure. We were working within a very tight timeframe, but once I got started, the ideas just flowed pretty much constantly. He was great to work with, he pretty much let me do what I wanted as long as I stuck to his brief on each track.

Numanme: How do you feel about the finished product and the fact that Gary is very happy with Jagged.

Ade Fenton: I'm very happy with the finished product. I think it's a very strong album and of course the fact that Gary is happy with it means it's a lot easier for me to say that.

Numanme: Do you feel Jagged has been a learning process for both you and Gary do you think the next album will be bigger and better.

Ade Fenton: Jagged was a learning process for Gary only because we'd never worked together before. By the third or fourth song, we'd developed a high level of trust, and a good way of working that it was quite easy. For me, I learnt a massive amount of things, both technically and working under such high pressure. We're already buzzing with ideas for the next album, and we're confident it will be very powerful. The increase in electronic sounds we started to bring back on Jagged will feature heavily.

Numanme: What track on jagged do you feel stand out more and why.

Ade Fenton: Slave. It's a great song. It was quite a tricky track to get right and maybe that's why I hold it in such high regard. And Haunted obviously, 'cos it's fucking brilliant.

Numanme: Do you think Jagged works better live.

Ade Fenton: It just works. Play loud for maximum effect.

Numanme: As a Numan fan and listening to most Numan fans I feel most are happy with Jagged did you worry at all about what the fans would think of your input.

Ade Fenton: Not particularly. Music is so personal anyway, you can't please all of the people all of the time. If people don't like it, that's fine, don't buy it.

Numanme: I understand you have a single called Healing coming out soon could you tell us more about this .

Ade Fenton: It's the first single to be taken from the forthcoming album 'Artificial Perfect', and one of 4 that Gary appears on. He also co-wrote the track with me.

Numanme: After the single you have a album could you tell us a little about this.

Ade Fenton: It's taken quite a long time to complete due to my various other music commitments, but I'm very happy with the finished piece. It's a very intense collection of songs and I'm extremely proud of it. 'Healing' is released on April 10th, and the album is released on April 30th. Both are to be released through Submission/Universal.

Numanme: what do you think the future has install for Mr. Ade Fenton.

Ade Fenton: Success, love, pain, death.

Numanme: Ade thanks for the time and all the best in the future.
Links
| | | |
| --- | --- | --- |
| | Ade Fenton celebrated 10 years as an established dj and artist within the world techno scene. During that time, he has gone on to establish himself as a respected record producer for artists including electronic music legend Gary Numan, and also playing keyboards in his band............. | |
| | Ade Fenton facebook page.... | |