Social Media
Get the lowdown on Gary Numan and follow us, join the Gary Numan community on social media. Join in the fun and have you say.
Amazon
Search for New and Used Gary Numan CDs, Vinyl, DVDs.
Tour Dates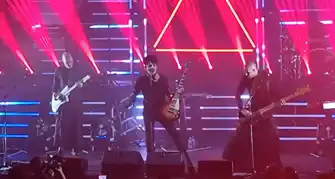 Check out the latest Gary Numan tour dates, events. See one of the founding fathers of synth pop.
Forum
To all Gary Numan fans the Numanme Forum is the forum for you a place for you to be completely Numanized. You can apply for free membership NOW!.
Facebook
This group has been put together for fans of Gary Numan and visitors of the Numanme site, to discuses all things Numan sell/trade share stories and images from all aspects of Numan's career.
Weather Forecast
Podcast
Numanme Radio Podcast will be playing you some of the best Classic Alternative, New Wave, Dark Wave, Synth-Pop, and Punk. Also, a staple diet of Gary Numan/Tubeway Army without question. Shows will be updated here when they become available.
Photo Gallery
These galleries contain Gary Numan related photographs. ranging form the Tubeway Army days to present day. Feel free to browse and if you would like to add any of your own images please get in touch.
Poll
Vote for your favorite Gary Numan album or song.
Numan Quotes +
Warriors LP
Title:

Warriors

Suggested Video

Artist:

Gary Numan

Tracklist:

Warriors
I Am Render
The Iceman Comes
This Prison Moon
My Centurion
Sister Surprise
The Tick Tock Man
Love Is Like Clock Law
The Rhythm Of The Evening

How old:

This LP is old!

Release Date:

September 24th 2021

Format:

LP

Record Label:

Beggars Banquet

Catalogue No:

BEGA 47

Price Guide:

£25.00

Country:

United Kingdom

Additional info:

This pressing is limited edition on orange vinyl.

Highest Chart Position:

N/A

Credits:

Gary Numan (Vocals, Guitar, Keyboards, Percussion)
John Webb (Keyboards, Percussion)
Cedric Sharpley (Drums, Percussion)
Chris Payne (Viola, Keyboard)
RRussell Bell (Guitar)
Joe Hubbard (Bass)
Dick Morrissey (Saxophone)
Tracey Ackerman (Vocals)
Bill Nelson (Guitar, Keyboards)
Terry Martin (Keyboards on 'The Tick Tock Man')

Produced by Gary Numan and Bill Nelson
Engineered by Pete Bhulmann, assistant John Webb, Nick Smith assistant Mark Brown)
Mixed By Pete Bhulmann and Gary Numan
Recorded at Rock City Studios Shepperton, Middlesex
Mastered by Ray Staff, Trident

Buy:
Additional Information
Beggars Arkive are excited to announce the LP reissue of Gary Numan's fifth album Warriors. This pressing is limited edition on orange vinyl. Originally released in 1983 and co-produced with Bill Nelson, the album continues Numan's ambient-funk experimentations.

"I still like a lot of the Warriors stuff and Bill Nelson did a lot of very inventive things on it which, because of our differences, I failed to appreciate at the time. I think the Mad Max image convinced a lot of people, the press especially, that it was a sci-fi album. Much of it though was actually quite autobiographical. Even songs like 'The Iceman Comes' and 'This Prison Moon' were more to do with what I was going through than anything sci-fi. Lyrically I was already becoming overly focused on the career struggle. Warriors was written, in the main, in a hotel room in Jersey. My girlfriend had just left me, I'd been evicted from the house I was living in and I felt pretty much alone in more ways than one. Despite its surface gloss of futurism it was really very inward looking. To me the image was meant to represent someone fighting for survival as much as anything" – Gary Numan

The achievements over his four decade career (and counting) are remarkable for someone who never made any concessions to mainstream success. Seven Top 10 singles, including 'Are 'Friends' Electric?' and the debut solo hit 'Cars'; seven Top 10 albums, three of which topped the charts; and huge critical acclaim, most notably with the Inspiration Award at the prestigious Ivor Novellos.

In a career that spans over forty years, the music evolves and the themes change. But fans remain fascinated by Numan for the very fact that he's so uncompromising. Gary recently released his twenty first album Intruder in May 2021..