Social Media
Get the lowdown on Gary Numan and follow us, join the Gary Numan community on social media. Join in the fun and have you say.
Amazon
Search for New and Used Gary Numan CDs, Vinyl, DVDs.
Tour Dates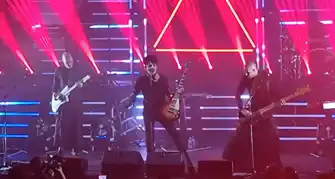 Check out the latest Gary Numan tour dates, events. See one of the founding fathers of synth pop.
Forum
To all Gary Numan fans the Numanme Forum is the forum for you a place for you to be completely Numanized. You can apply for free membership NOW!.
Facebook
This group has been put together for fans of Gary Numan and visitors of the Numanme site, to discuses all things Numan sell/trade share stories and images from all aspects of Numan's career.
Weather Forecast
Podcast
Numanme Radio Podcast will be playing you some of the best Classic Alternative, New Wave, Dark Wave, Synth-Pop, and Punk. Also, a staple diet of Gary Numan/Tubeway Army without question. Shows will be updated here when they become available.
Photo Gallery
These galleries contain Gary Numan related photographs. ranging form the Tubeway Army days to present day. Feel free to browse and if you would like to add any of your own images please get in touch.
Poll
Vote for your favorite Gary Numan album or song.
Numan Quotes +
80s Mix Ministry of Sound 4xCD
Title:

80s Mix Ministry of Sound

Suggested Video

Artist:

Various Artists

Tracklist:

Disc: 1

01. Frankie Goes To Hollywood - Relax
02. The Human League - Don't You Want Me
03. Gary Numan - Cars
04. Soft Cell - Tainted Love
05. New Order - Blue Monday
06. Yazoo - Don't Go
07. Heaven 17 - Temptation
08. Joy Division - Love Will Tear Us Apart
09. Bronski Beat - Smalltown Boy
10. Go West - We Close Our Eyes
11. Talk Talk - It's My Life
12. ABC - Poison Arrow
13. Paul Hardcastle - 19
14. Spandau Ballet - Chant No 1
15. Tears for Fears - Mad World
16. Duran Duran - Save A Prayer
17. Simple Minds - Don't You Forget About Me
18. Visage - Fade To Grey
19. Blondie - Rapture
20. Nick Kershaw - Wouldn't It Be Good

Disc: 2

01. Run DMC - Walk This Way
02. Beastie Boys - Fight For Your Right
03. Salt & Pepa - Push It
04. Grandmaster Flash - White Lines
05. Sugarhill Gang - Rappers Delight
06. Rob Base & EZ Rock - It Takes Two
07. Doug E Fresh - The Show
08. NWA - Express Yourself
09. Eric B & Rakim - Paid In Full (Mini Madness
10. Stetsasonic - Talking All That Jazz
11. Young MC - Know How
12. Herbie Hancock - Rockit
13. Harold Faltemeyer - Axel F
14. Rocksteady Crew - Hey You
15. Hashim - Al Naayfish (The Soul)
16. Afrika Bambaataa - Planet Rock
17. Shannon - Let The Music Play
18. Ollie & Jerry - Breakin'... There's No Stopping Us
19. Freeez - IOU
20. Chaka Khan - I Feel For You

Disc: 3

01. Cameo - Word Up
02. Rufus & Chaka Khan - Ain't Nobody
03. Sister Sledge - Thinking Of You
04. Hall & Oates - I Can't Go For That
05. Alexander O'Neal - Criticize
06. Shalamar - I Can Make You Feel Good
07. D Train - You're The One For Me
08. Womack & Womack - Teardrops
09. Colonel Abrams - Trapped
10. Rockers Revenge - Walking on Sunshine
11. Steve Arrington - Feel So Real
12. Indeep - Last Night A DJ Saved My Life
13. Gwen Guthrie - Ain't Nothin Going on But The Rent
14. Change - Change of Heart
15. The Fatback Band - I Found Lovin
16. Loose Ends - Hangin On A String
17. Joyce Simms - Come Into My Life
18. Ashford & Simpson - Solid
19. Nu Shooz - I Can't Wait
20. Jocelyn Brown - Somebody Else's Guy

Disc: 4

01. Neneh Cherry - Buffalo Stance
02. Black Box - Ride on Time
03. Coldcut - People Hold On
04. S'Xpress - Theme From S'Xpress
05. M/A/R/R/S - Pump Up The Volume
06. Technotronic - Pump Up The Jam
07. Inner City - Good Life
08. Steve Silk Hurley - Jack You Body
09. Marshall Jefferson - Move Your Body
10. Ten City - That's The Way Love Is (Deep House Mix)
11. Frankie Knuckles - Your Love
12. Farley Jackmaster Funk - Love Can't Turn Around
13. D Mob - We Call it Acieed
14. Jungle Brothers - I'll House You
15. Mr Fingers - Can You Feel It
16. 808 State - Pacific
17. Joe Smooth - promised Land
18. Jack N Chill - The Jack That House Built
19. Ralphi Rosario - You Used To Hold Me
20. Kariya - Let Me Love You For Tonight

How old:

This 4xCD is old!

Release Date:

March 3rd 2014

Format:

4xCD

Record Label:

Ministry of Sound

Catalogue No:

LC22599

Price Guide:

£10.00

Country:

United Kingdom

Additional info:

80s

Highest Chart Position:

N/A

Credits:

N/A

Buy:
Additional Information
It was the decade that brought you Air Force 1s, Dirty Dancing and some seriously questionable fashion, but most importantly great music... music that has made its mark on history and it's not going anywhere. Ministry of Sound is paying homage to this iconic generation in the shape of 80s Mix, the ultimate selection of 80s Electronic inspired music. Whatever your style, 80s mix has got it covered across 4 CDs of pioneering electronic classics. CD 1 brings you the best of Electronic 80s including legendary tracks from Frankie Goes to Hollywood, Gary Numan and The Human League. CD 2 features Hip Hop legends such as Run DMC, NWA and Sugarhill Gang. CD 3 is the Soul Weekender where you can enjoy the smooth sounds of Chaka Khan, Shalamar and Cameo. Finally mix 4 takes you straight to the party with Acid House and Dance from Frankie Knuckles, Neneh Cherry and M/A/R/R/S. This timeless collection of influential tracks and undisputed classics is one not to be missed. It is proof that the best things in life always get better with age!